Run sensitive surveys.
Get insights.
Unlock value.
Free plan, no time limit
Set up in minutes
No credit card required
To Ensure The Privacy Of Your Customers, You Must Stop Using SurveyMonkey For Your Business
Data privacy has been on the top of everyone's head due to Cambridge Analytica. Companies are trying hard to protect the data of their customers, but many medium-sized businesses are not getting a clear picture of what they should do. Survey Monkey is one such tool that most businesses use and here we will show you why you need to stop using it right now.
Customer vs Data privacy
We all care about our customers for various reasons because we know how important our businesses are. To get an accurate understanding of your customer's needs, the simplest way of knowing it is only by asking them through surveys. This is where online survey platforms like SurveyMonkey come for your help. For ages, any business that keeps in mind the Customer's welfare and thrives on protecting them will always find a strong place in customers' hearts and continue to rule the market. In the age of surveillance capitalism, data privacy is the biggest issue faced by customers in the digital market.
Surveillance capitalism is the economic system that runs around the commodification of personal data with the core purpose of profit-making. The personal data of customers are shared and used to do targeted marketing campaigns. Today, every company includes the voice of their customers in the business module to constantly improve their existing strategies. We all know how important is customer feedback to improve the quality of the product/service we are providing.
In such cases, we rely on survey platforms like SurveyMonkey, Google forms, etc., to either run our Feedback surveys or Customer satisfaction survey. You may think it's a simple survey, but what if they are not completely data secured? That's the point here. SurveyMonkey is one of the pioneers of the online survey platforms; they are the first to make people switch from paper to digital surveys. Until recently, companies have had little compelling reason to search for more secured SurveyMonkey alternatives to protect their customers from surveillance capitalism.
What is Data privacy?
Data Privacy is a part of the Data protection area; it deals with transparency in the collection, storage, and sharing of the user's personal data. Almost all the countries around the world are now more concerned about their data privacy laws. They make sure that the companies that run businesses in their country are more compliant with their data privacy laws.
Why is data privacy important in your business?
Nowadays, not only the governments but also the general public is more concerned about their data privacy. In a situation like a pandemic, when there are dramatic changes in how we work, every organization is looking for protected tools and networks to work remotely. Likewise, the customer feedback system plays a vital role in every aspect of the business. When you are expecting honest and valuable feedback from your customer, they, in turn, expect a more secured feedback form from you so that they can provide honest feedback without the fear of their data being tracked from behind.
According to the Cisco data privacy survey 2019, the analysis clearly shows that 42% of the people have switched companies over their Data privacy policies. Yeah! That's huge. So if you are relying on survey platforms like SurveyMonkey, you will risk losing your customer only because of the data privacy issues with the platform you have chosen. That is why you should really be looking for a better alternative for SurveyMonkey.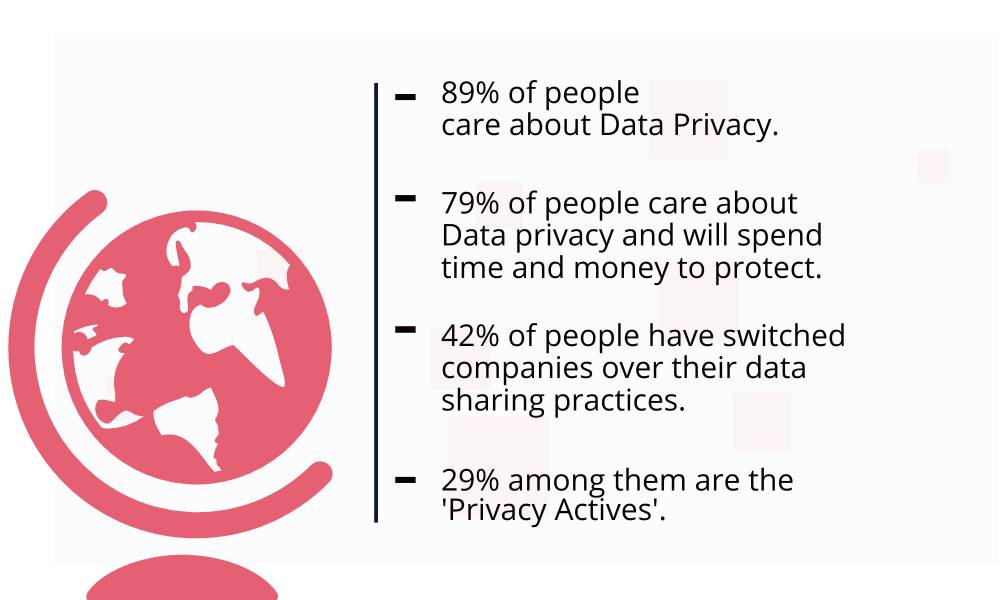 Here are some insights into why SurveyMonkey is not the best if you look for secure customer surveys.
1. SurveyMonkey, by default, collects the IP addresses of their respondents:
Yes!! SurveyMonkey allows the creator of the survey to store the IP addresses of the respondents by default include them in their final reports. So when your customer finds out their IP addresses are being collected, that makes them feel a data breach in their personal digital space.
It is mentioned in SurveyMonkey's privacy policy that the user's Device and browser data will be collected to use their services. Device data means your IP address, operating system, device type, device ID/MAC address, system and performance information, and browser type. The respondent really doesn't know what all the other things being tracked under the hood for just responding to your survey are. In such a case, do you think your customer will give you an honest answer to your questions, even most of them simply wants to avoid responding to them.
2. SurveyMonkey fails the Transparency test:
If you are using a third-party survey platform, transparency is the major issue. When you look into SurveyMonkey's 'Terms of Service', they have clearly mentioned, "Our servers keep the record of log details every time a device accesses the servers." It makes it clear that SurveyMonkey technically now records your digital identity. You can build a survey with 100 plus question types, easy third-party integration, etc., but what's the use of it without data privacy for your end-user.
If you are using it to collect your customer response, and if your customer is among the 'Privacy actives' ( people who switch companies for their mismanaged data privacy policies), will definitely lose the digital trust among this group. It is even more evident from the recent Cisco survey that 21% of the people state that the companies should be responsible for protecting data privacy.
Though SurveyMonkey doesn't explicitly share these records with anyone, they are still stored in their servers and accessible to their staff. So, where's the logic of transparency with the end-user.Technically, if you fail to be transparent about how your respondent's data is being collected and used, then you should definitely go with our recommendation for a better and secured alternative for SurveyMonkey.
3. Is SurveyMonkey anonymous:
Being the pioneers of digital surveys, most people tend to choose them for their business survey needs.It is a common misconception that SurveyMonkey does not know anything in their surveys or on their website. But on the other hand, SurveyMonkey's privacy policy states that the reason behind collecting the IP address of their respondents is to avoid duplicate submissions. So it is self-evident that with SurveyMonkey, neither the creator nor the respondent can be anonymous. The only way to prevent this is to enforce a decentralized pseudo-anonymous an identity that enrolls the survey participants in a zero-knowledge way. So why not keep it anonymous by default. Here is our blog on"Is SurveyMonkey anonymous?" for more details.
So do you wonder what the solution to your problem is? Here's our recommendation for a more secured survey platform trusted by companies to provide a better survey experience for you and your customer? BlockSurvey. This could be a great option when you care about the data privacy of your customer and a great user experience.
What is the most secure SurveyMonkey alternative available?
The answer is 'BlockSurvey.' BlockSurvey is the most trusted and secure online survey tool and the best available alternative for SurveyMonkey with all the key features. When websites like SurveyMonkey work as a profiling system to collect their users' data from behind, BlockSurvey is the first online survey platform that gives you complete control over your data. We strongly believe that owning your data is your fundamental digital right. Using BlockSurvey for your survey needs, you take complete control of your's and your customer's data privacy. Our survey templates are created to give your respondents a better user experience with complete data protection.
Why BlockSurvey?
BlockSurvey is a decentralized survey tool powered by Stacks blockchain, which is secured by Bitcoin. Surveys created using BlockSurvey are always secure and data protected. BlockSurvey never stores, shares, or publishes your data in any way. You own your data completely, and it is accessible only to you since it is an end to end encrypted using your keys. Unlike SurveyMonkey, you can maintain your digital trust with your customer and protect them from Surveillance Capitalism. Start your free trial now.
Run sensitive surveys.
Get insights.
Unlock value.
Free plan, no time limit
Set up in minutes
No credit card required
---