Run sensitive surveys.
Get insights.
Unlock value.
Free plan, no time limit
Set up in minutes
No credit card required
How to create a Product Market Fit Survey
In this article, we will walk you through the basics of Product market fit survey and how BlockSurvey can be used to create one.
Product-Market fit is one of the major issues in the early stages of a start-up's life. It can make or break a company and can take many months, if not years, to find. Using a survey tool like Blocksurvey you can ask your customers about their satisfaction, in order to help you uncover any problems.
What is a Product Market Fit?
Have you ever noticed how entrepreneurs everywhere are talking about the importance of "Product-Market fit"? Seems like the next big thing for most people is to build a tool that can help you understand what exactly it is.
Product-market fit deals with the situation where the company's major target customers are purchasing and using the company's products and at the same time they are letting others know about the company's commodities and products in numbers large enough to grow, support, and sustain the product's growth and at the same time increase, its profitability. Product-market fit suggests finding a good market with a product proficient in satisfying that market.
Why product-market fit is important?
Product-market fit is very important and crucial because until that period of time you don't know whether or not what you are developing solves an actual problem that big enough businesses have. Without transparency and clarity on this, you could continue investing in creating something that is not commercially and economically viable.
What is a Product Market Fit Survey?
Is there one single question that perhaps can define the strength of your product or idea (in case you are yet building a product) and validate the market-product fit?
Fortunately, for all of us - there is.
Popular marketing Guru, Sean Ellis recommends a very important question to be asked to your potential customers to really test if the product is a great market fit –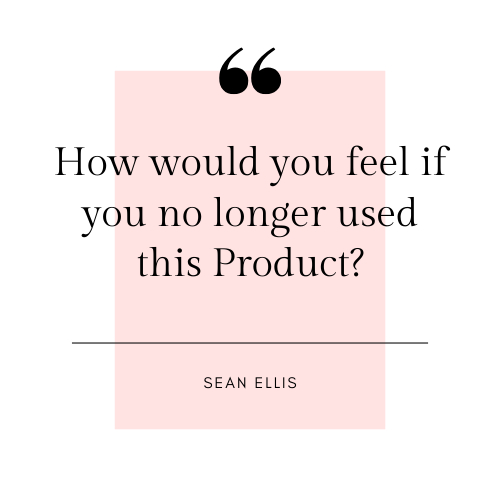 The answer choices range from – "very disappointed" to "I no longer use the product". By conducting a survey with 100 start-ups Ellis found that if over 40% of the respondents say that they will be ''very disappointed'' when they stopped using the product then there is a great chance that the product has achieved the market-fit. Interesting isn't it?
An example of 'Posing the most relevant question' is a survey conducted by Hiten Shah on the popular communication platform – Slack. The survey covered 731 users of Slack and came up with some very interesting insights –
370 or 51% of the respondents said that they would be ''very disappointed'' if they could no longer use Slack
288 or 31% said that would be ''somewhat disappointed''
Only 73 or 10% said ''Not disappointed''
It is a known fact that Slack has been and is an amazingly useful communication platform that has been the pick amongst several users – both big and small organizations. As this survey had validated - Slack is now a classic example of a Market-product fit.
Research says there are three main aspects to be looked into to shift from a product-market fit to a market-product fit –
Who – Who is it targeted at? Who will likely use the product?
Problem – What problems does your target market currently face? Will your product help address the problem(s)?
How – How do you plan to solve these problems?
Once you have all these questions answered, you would almost automatically arrive at a product that falls into the market-product fit space. The journey from there on is all about your drive, efforts, and perseverance! Here is an entire presentation of Product Market Fit Survey by Hiten Shah for further reading.
How to make the perfect product-market fit survey?
If you want to make the perfect product-market fit survey, all you gotta do is to follow these straightforward steps, and you'll be a pro at it in no time!
Chose your survey questions: The first and the most crucial step! Make sure your questions are straightforward, to the point, and customer-focused.
Get hold of 40-50 people to take the survey: The next step is to recognize customers to send your survey to. 40-50 people work just fine for it! But it's essential to get hold of the right type of people for your survey.
Send your survey: Now that you've your questions, as well as a list of right-fit users, it's time to get the survey out in the world!
The grand reveal! When you've finally received sufficient survey responses, it's time to analyze and come to a conclusion. And you're done, now it wasn't that hard, was it?
BlockSurvey has a Sean Ellis Product Market Fit Survey template for your ready use. Sample below.
Run sensitive surveys.
Get insights.
Unlock value.
Free plan, no time limit
Set up in minutes
No credit card required
---