How to do a Confidential Survey?
Gaining survey respondents' trust with the shared data is instrumental in getting sensitive and reliable information from them. Also, it turns out there's a lot we can do to increase confidentiality beyond just keeping identifiable data secret. In addition to creating anonymous surveys with BlockSurvey, we wanted to create a resource that will help you understand how you can improve your own surveys' confidentiality. The resource will also help you understand why confidentiality is important.
What are confidential surveys?
Confidential surveys are a type of online survey tool where the participant's name is not asked. Assuming the respondent fills out the survey honestly, this means that you will only be able to see his answers and not his name. Confidential surveys are beneficial when you want to get feedback from people anonymously. Your survey's subject matter may find it difficult to obtain honest feedback if respondents feel that their identity will be revealed.
For example, think about an employee sharing data on a survey, usually the data is linked or segmented. Information is held privately yet is connected to an individual, typically by a unique identifier. This implies it is secret yet not unknown. Here is an example of a confidential survey for your reference.
For the confidential surveys, the data is linked up to the participant and the terms of confidentiality are extremely important. This is why, we in BlockSurvey, understand how important confidentiality is and we take extra steps to make sure your data is safe with you and no one gets to know other than you. BlockSurvey has zero knowledge of your data.
Why is confidentiality required and should be maintained in a survey?
If you or your company is planning to conduct few online surveys, you need to keep in mind how crucial the question of confidentiality is, and it needs to be a critical consideration. Data collected from online surveys must be kept confidential at all costs. When gathering individual information using online surveys, it is fundamental you make it clear what the information will be utilized for. Let the respondent that you don't utilize their information for some other purposes than for completing the examination. If you mean to gather individual subtleties and reuse them, you need to educate the respondent that this is occurring and plainly give a choice to quit.
Once you've gained your respondent's trust and you've ensured them it's going to be truly confidential, you'll soon find out that you're receiving a lot more response than you actually might have anticipated.
Can a survey be both confidential and anonymous?
Before you begin creating the survey, you can determine if it will be anonymous, confidential, or identified. You can read Rework's article here on confidential vs anonymous.
When the data gets collected and held namelessly, it shows that there are no recognizing esteems that can connect the data to the member; not even the specialist could distinguish a particular member. Online survey tools are commonly led namelessly; nonetheless, the specialist should be sure the IP address isn't put away.
The researcher likewise needs to remember that too many recognizing segment factors could frustrate the members' secrecy. At the point when information is gathered and held in confidence, the researcher can recognize the subjects. One method of recognizing the subjects is to relegate a distinguishing number or code to every member. Moreover, any study in a vis-à-vis environment is consequently named as classified, as the researcher will realize who gave the information. When information is gathered secretly, the data should be kept protected because they are recognizable. What's more, comparably to anonymous data assortment, it is useful to tell the member that information will be examined at the gathering level to de-recognize members. Recognizing numbers won't be introduced in the aftereffects of the analyses.
What are the main advantages of using a confidential survey?
The three major advantages of using confidential surveys are listed down below!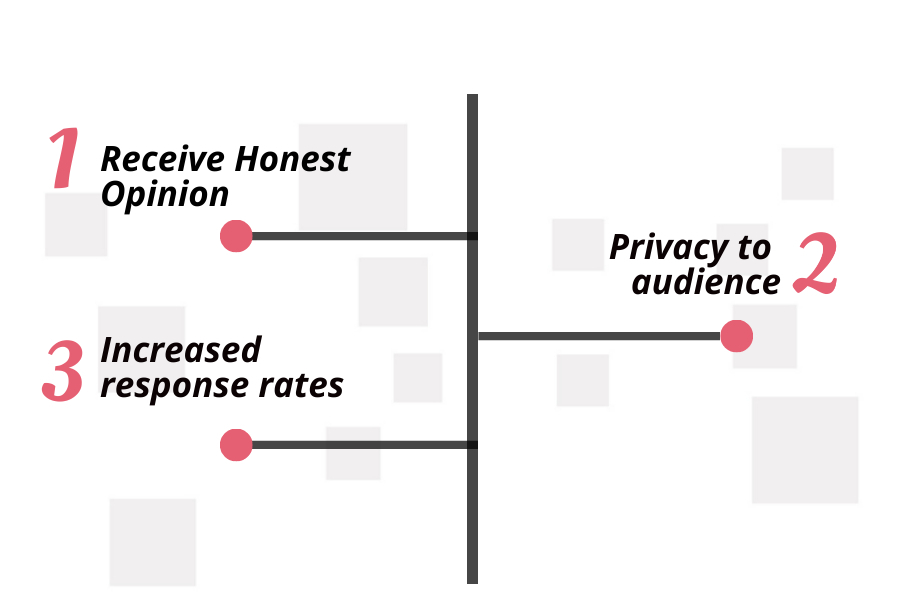 Honest opinion: If you're rooting for an honest and raw opinion from your customers/ clients, there's no better way than achieving it with the help of a confidential survey. C'mon the main logic behind using confidential surveys is to make your users feel safe about their identity and provide you with raw and honest answers, isn't it?
Privacy: If you want honest answers, you need to assure one the protection of their identity. You'll keep on receiving your answers and at the same time, you need to make sure no one can track down or link the participants with the answers they've provided for you or your company!
Response rate: Last but not least, confidential surveys are commonly more valuable when you are attempting to review certain individual, effective, or touchy data. In such circumstances, realizing the study is absolutely confidential would make it almost certain for respondents to reply, giving you higher response rates for reviews that may have in any case experienced low response rates.
BlockSurvey: A confidential survey tool
A confidential survey tool is an online survey that protects your respondents' identities. It guarantees the protection of private information that may be leaked or disclosed to a third party due to the direct or indirect involvement of the respondents in your survey. In other words, it gives you and your respondents peace of mind. This is why confidential survey tools are popular among people who wish to avoid potential harm or seek protection from an adversary party. BlockSurvey is here to help you with it. You own your data with BlockSurvey. Only you can see it. It is powered by Stacks blockchain. Blockchain is the technology of the future, and you can learn how to collect data in a confidential manner using BlockSurvey.
Here is an example of a sample confidentiality agreement form.
Run sensitive surveys.
Get insights.
Unlock value.
Free plan, no time limit
Set up in minutes
No credit card required
---
Run sensitive surveys.
Get insights.
Unlock value.
Free plan, no time limit
Set up in minutes
No credit card required