Run sensitive surveys.
Get insights.
Unlock value.
Free plan, no time limit
Set up in minutes
No credit card required
5 Reasons Why You Should Look For A More Secure Survey Alternative To SurveyMonkey
An alternative to SurveyMonkey?
Why should I look for that? SurveyMonkey is one of the pioneers of digital surveys; they are the ones who changed a huge customer base from paper surveys to online survey tools. Its simplicity, features, and Freemium plans make it one of the safest options for a digital survey need. But, when the whole online community is hawking about the data privacy issues and the safety of their personal data in the digital world where they spend almost a major part of their day, we should really question ourselves,"Is your data safe with SurveyMonkey?"
Unfortunately, the answer is a "NO." Definitely, there are a lot of evident reasons for this answer. Still, before diving deep into that, we must understand the need for data security in surveys we randomly use on a day-to-day basis.
What is the need for Secure Surveys?
You may be a Marketer, Entrepreneur, or someone who deals with a customer feedback system for your startup. Online surveys are the widely used medium to get customer feedback or your Customer satisfaction.The value that this feedback adds to your overall system is significant to know how your product/service performs in the market or the spots and pitfalls you need to concentrate on to improve your business.
If you rely on the authenticity of the responses they give, you should care as much about their Data privacy as they do. You should mitigate the risk of exposing respondent data and maintain anonymity to increase your survey response rate.
Who are the "Privacy Actives"? Why you should care about them?
According to the Cisco data privacy survey 2019, the analysis clearly shows that 42% of the people have switched companies over their Data privacy policies. Yeah! That's huge. So if you are relying on survey platforms like SurveyMonkey, you will risk losing your customer only because of the data privacy issues with the platform, you have chosen. That is why you should really be looking for a better alternative for SurveyMonkey.
Don't attempt to take these Privacy Actives easily, they are highly motivated individuals paying more attention to their data security. Surprisingly, the demographics of this category are much younger, do more shopping online, and growing day-by-day. This is a very attractive group of customers for brands of almost every digital business. So you can't risk losing them due to the privacy issues of the online survey platform you choose.
The reasons why SurveyMonkey fails as a Secure survey platform:
1. SurveyMonkey by default stores your IP addresses:
SurveyMonkey allows the survey creators to choose the option for storing the IP address of the respondents; it is stored in the survey creator's account. So when your customer finds out their IP addresses are being collected, they feel a privacy breach in their personal digital space.
2. SurveyMonkey tracks down your Digital Identity:
It is mentioned in SurveyMonkey's privacy policy that the Device and browser data of the user will be collected to use their services. Device data means your IP address, operating system, device type, device ID/MAC address, system and performance information, and browser type. The respondent really doesn't know what other things are being tracked under the hood for just responding to your survey. In such a case, do you think your customer will give you an honest answer to your questions, even if most of them simply wants to avoid responding to them.
3. It makes Your Brand's Digital Trust at risk:
If you are using a third-party survey platform, transparency is the major issue. When you look into SurveyMonkey's 'Terms of Service', they have clearly mentioned, "Our servers keep the record of log details every time a device accesses the servers." It makes it clear that SurveyMonkey technically now records your digital identity. You can build a survey with 100 plus question types, easy third-party integration, etc., but what's the use of it without data privacy for your end-user.
4. SurveyMonkey fails to keep the Anonymity of the user:
It is a common misconception that SurveyMonkey does not know anything in their surveys or on their website. But on the other hand, SurveyMonkey's privacy policy states that the reason behind collecting the IP address of their respondents is to avoid duplicate submissions. So it is self-evident that with SurveyMonkey, neither the creator nor the respondent can be anonymous. In that case, how can you expect a 100% honest response from your customer when they feel they are not completely anonymous.
5. Your identity is still accessible by SurveyMonkey:
Though SurveyMonkey doesn't explicitly share these records with anyone, they are still stored in their servers and accessible to their staff. So, where's the logic of transparency with the end-user. Technically, if you fail to be transparent about how your respondent's data is being collected and used, then you should definitely go with our recommendation for a better and secured alternative for SurveyMonkey.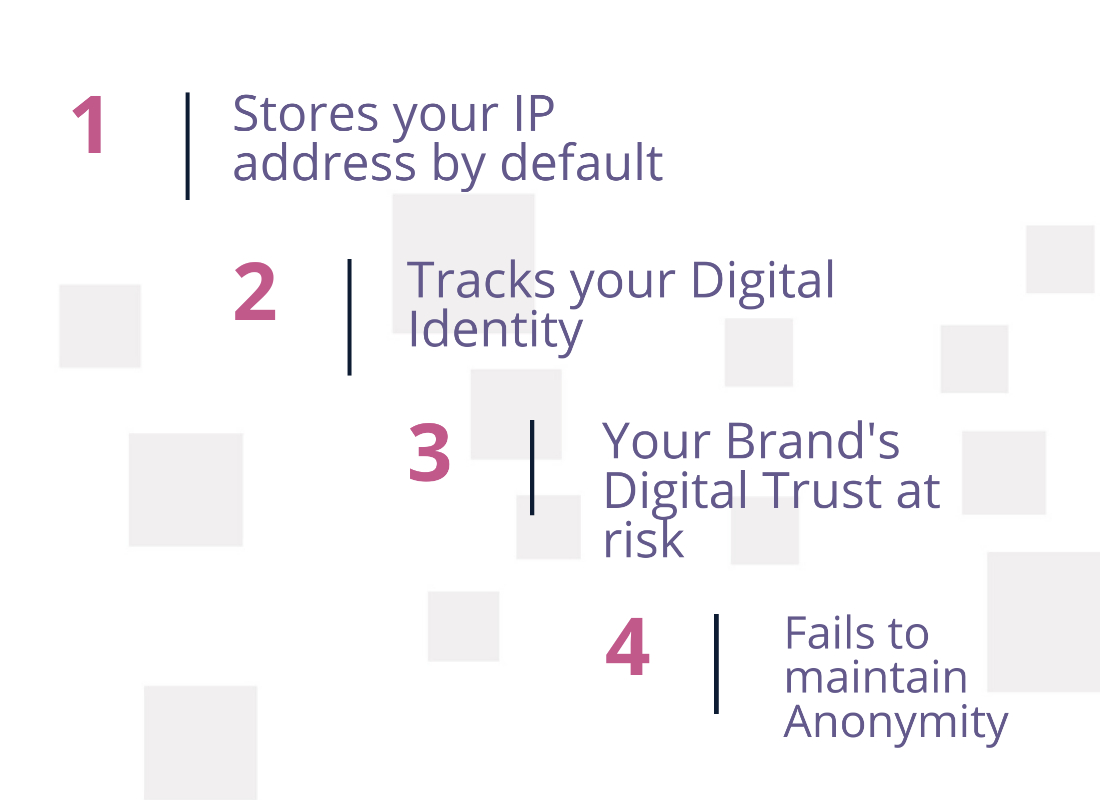 So, What's the best Secure alternative available?
BlockSurvey is the World's most secured survey tool which completely provides data security to its creators and responders. BlockSurvey is a private and secure survey tool with plenty of rich features that supports your participant's complete anonymity, privacy and security. We are living in the "Crypto" era, where cryptocurrencies and Blockchain technologies are ruling the world. BlockSurvey is the very first online survey tool that uses Stacks Blockchain, which is secured by Bitcoin to power up the surveys.
Why BlockSurvey?
BlockSurvey has a bundle of meaningful and intelligent features like skip logic, the custom domain for branding, good-looking taking screens, and encrypted data to give you data security and data privacy. This survey software comes with pre-built templates, 100 question types, an intuitive drag-and-drop tool, and more. It has all the best features of the leading online survey tools, including SurveyMonkey. Still, the current situation of Surveillance Capitalism creates the need for a more secure platform to rely on for all your survey needs, and BlockSurvey serves the purpose.
With BlockSurvey you can really create an anonymous survey, unlike other survey platforms BlockSurvey doesn't store or use any of your data. Most online survey tools store the digital identity of their users and use it for Targeted Marketing purposes.
But BlockSurvey uses the Decentralized identity bootstrapped from Bitcoin when you create your account, which in turn gets you a seed phrase which is your own secret key used in end-to-end encryption of all your activities, and that's only known to you. BlockSurvey strongly believes in enabling digital rights for people. Here is a quick look at how BlockSurvey works.
Conclusion:
BlockSurvey is the best for New-gen survey features, easy customization, and the most secured Data privacy survey. And you must try out how the BlockSurvey AI helps you figure out the best questions for your survey. When you get a lot of features in the basic plan itself, why not give it a try?
5 Reasons Why You Should Look For A More Secure Survey Alternative To SurveyMonkey FAQ
Why is SurveyMonkey considered not secure for conducting surveys?
Lack of end-to-end encryption: SurveyMonkey does not offer end-to-end encryption for survey responses, which means that the data is vulnerable to interception and unauthorized access. Data storage: SurveyMonkey stores survey data on servers that are not always located in the same country as the respondents, which can raise legal and privacy concerns. Third-party data sharing: SurveyMonkey allows third-party integrations, which means that survey data can be shared with other companies without the knowledge or consent of the survey respondents.
What are some more secure alternatives to SurveyMonkey for conducting surveys?
BlockSurvey is the only decentralized survey platform, with end-to-end encryption and surveys powered by Stacks Blockchain. It is the most secure alternative if your primary focus is on data privacy.
Run sensitive surveys.
Get insights.
Unlock value.
Free plan, no time limit
Set up in minutes
No credit card required
---