Run sensitive surveys.
Get insights.
Unlock value.
Free plan, no time limit
Set up in minutes
No credit card required
Jotform vs Typeform vs BlockSurvey- A Holistic feature based comparison
Are you on the quest for the perfect data collection tool that values your privacy as much as you do? If you're out there making a difference in the world, we know that the security, privacy, and consent of the data you collect is of the utmost importance.
In this digital age, finding the right tool can be a real challenge - especially when you're handling sensitive information. That's why we're going to focus our magnifying glass on three popular online form builders - Jotform, Typeform, and BlockSurvey to compare in and out on every feature of them from a privacy-centric viewpoint.
Jotform and Typeform are certainly powerful in their functionalities, offering a range of features and integrations. However, in our fight for privacy, BlockSurvey stands as a unique contender, boasting a privacy-first approach with blockchain technology.
But which one truly upholds the standards of a privacy activist? Which of them is the perfect accomplice in your mission to keep data safe and secure? Let's scrutinize, dissect, and find out! So, tighten your privacy shields, prepare for an insightful journey, and let's delve into the captivating world of secure form builders together!
Ease of Use
Jotform: Known for its drag-and-drop form builder, Jotform makes creating forms easy and intuitive. The interface is user-friendly, and there's a vast range of templates to choose from.
Typeform: With its unique conversational approach, Typeform presents a refreshing take on form building. The tool has a bit of a learning curve due to its unique design, but once you get the hang of it, creating forms is straightforward.
BlockSurvey: BlockSurvey offers a streamlined interface that is easy to navigate, though its design customization may not be as extensive as the other two. Simplicity in design often translates into ease of use for the end-user.
All three platforms are known for their user-friendly interfaces, with simple drag-and-drop features for creating forms. Jotform and Typeform are particularly recognized for their easy-to-use, intuitive design. However, BlockSurvey also offers a straightforward interface that's easy to navigate, even for beginners. It combines the simplicity of traditional form builders with the power of advanced privacy features, making it a standout choice for anyone who values ease of use and data security.
Privacy
Jotform: Jotform uses encryption for data security. However, as a centralized service, data privacy is based on Jotform's controls and systems. You cannot have complete control over your data ownership.
Typeform: Typeform though ensures data encryption and has a comprehensive privacy policy, data leaks from Typeform is brings big questions to Typeform's data privacy. Like Jotform, it's a centralized service, meaning data privacy relies on Typeform's security measures.
BlockSurvey: BlockSurvey puts a strong emphasis on user privacy and data protection. BlockSurvey enables digital rights for the users. Meaning, the account or identity ownership and data ownership is with the user and not with the platform provider. With BlockSurvey, all your data is encrypted end to end and you have the keys for them. This prevents data breaches, leaks, and harvesting trust issues and that obviously increases survey response rates.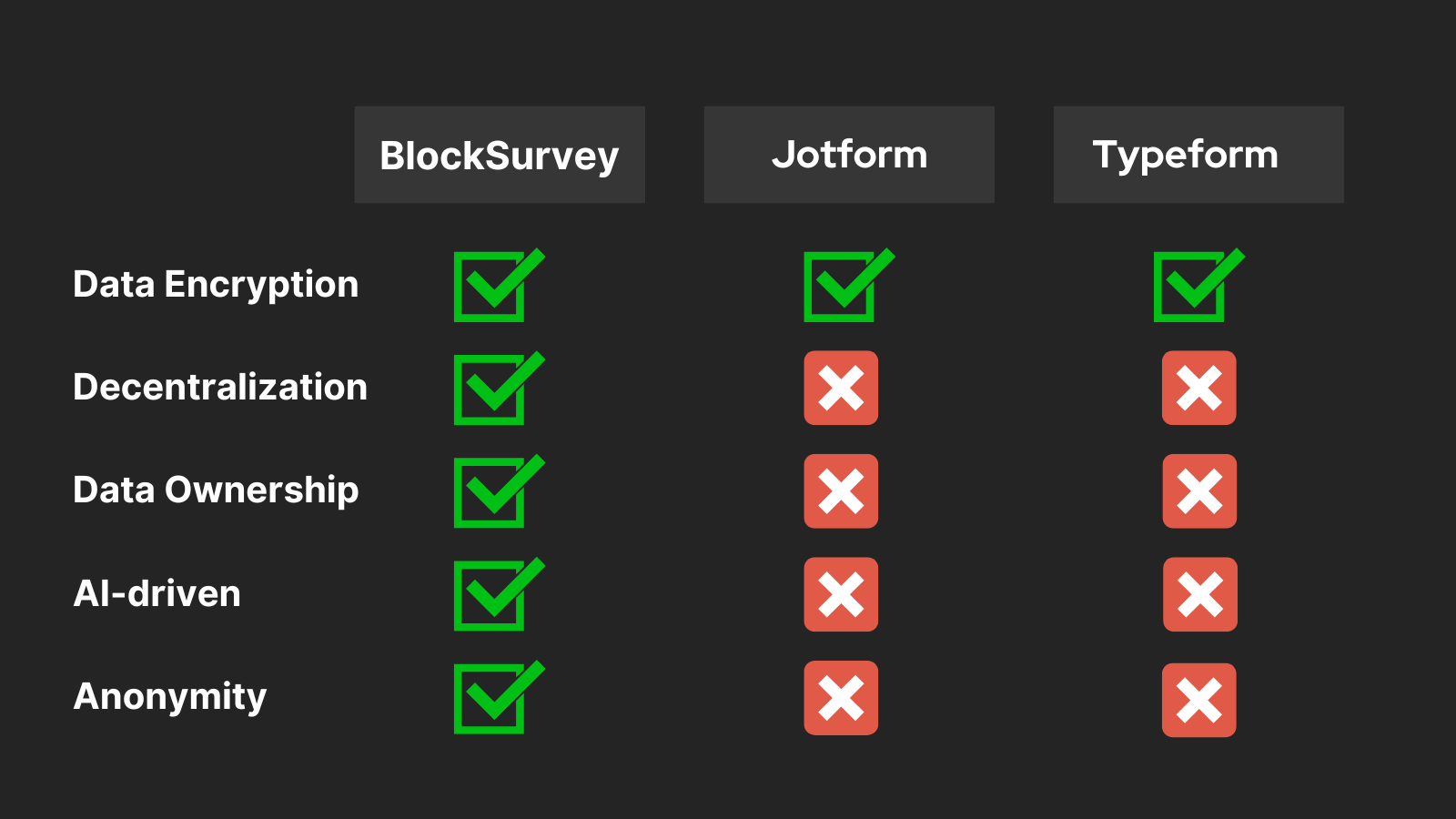 When it comes to privacy, BlockSurvey is an indisputable leader. While Jotform and Typeform offer standard data protection measures, BlockSurvey takes privacy to the next level. It uses blockchain technology to ensure that the data you collect remains private and accessible only to you. With a robust encryption system, it ensures end-to-end security for your data. In an age when data privacy is increasingly paramount, BlockSurvey's focus on secure data collection makes it the most reliable choice for privacy-conscious users.
White Labeling
Jotform: With its paid plans, Jotform offers custom branding, allowing you to remove Jotform branding and add your own.
Typeform: Typeform also provides white labeling capabilities in its higher-tier paid plans. You can add your own logo and branding to the forms you create.
BlockSurvey: BlockSurvey is a true white label survey software. You can customize URLs, Logos, Fond, Brand Colors, and more. You can completely customize your surveys through BlockSurvey.
White labeling allows you to create forms that align with your brand's look and feel. Both Jotform and Typeform offer white labeling, allowing you to customize your forms to match your brand. However, BlockSurvey goes a step further. Not only can you customize your forms with your logo and branding, but you can also do so without worrying about third-party access to your data. This feature, combined with its superior privacy protections, makes BlockSurvey an excellent choice for businesses looking to maintain brand consistency while ensuring data security.
AI-Driven Surveys
Jotform & Typeform: Neither Jotform nor Typeform offered AI-driven survey options.
BlockSurvey: Blocksurvey is the only online survey tool that uses AI to help create online surveys. You know that feeling when you need to make a survey, but can't seem to come up with the right questions? Well, Blocksurvey has got you covered! Their AI-driven surveys can suggest questions based on your topic, which is super helpful when you're stuck with writer's block. So don't stress out, let Blocksurvey do the work for you and create the perfect survey in no time!
Analytics
Jotform: Jotform offers built-in analytics features that provide useful insights. It allows you to view form analytics, understand how users interact with your forms, measure traffic, and see submission rates. You can view these statistics directly on the platform, which can be helpful for optimizing your forms for better engagement.
Typeform: Typeform excels in the analytics department, offering robust built-in analytics. You can access metrics such as the completion rate, average completion time, and drop-off points, allowing you to refine your forms based on the insights provided. Moreover, Typeform has an integration with Google Analytics for a deeper understanding of user behavior.
BlockSurvey: BlockSurvey provides the best essential analytics on form and survey responses. The data analytics focuses more on the received responses,
Jotform, Typeform, and BlockSurvey all provide analytics features, enabling you to review and analyze your form data. However, while Jotform and Typeform offer more visual analytics tools, BlockSurvey focuses on providing robust data privacy, which can be crucial if you're handling sensitive information.
Even though BlockSurvey's analytics feature might not be as visually robust as the others, it ensures that your data is private and secure. This, in itself, can be a significant advantage when dealing with sensitive data.
To wrap it up
After comparing JotForm, Typeform, and BlockSurvey, it is evident that BlockSurvey stands out as the superior option. With its robust features, advanced security measures, user-friendly interface, and versatile data collection capabilities, BlockSurvey emerges as the clear choice for users seeking a reliable and secure online form builder. Whether it's for surveys, feedback forms, or data collection needs, BlockSurvey offers an exceptional experience that combines simplicity, privacy, and innovation, making it the best tool to use for your form-building requirements.
Jotform vs Typeform vs BlockSurvey- A Holistic feature based comparison FAQ
What are the main differences between Jotform, Typeform, and BlockSurvey?
Jotform is a cloud-based platform for creating forms, surveys, and polls that can be embedded on a website or shared via a link. Typeform is a cloud-based platform for creating interactive forms with conversational elements. BlockSurvey is a decentralized platform for creating and managing surveys in a secure and privacy-oriented manner.
How does BlockSurvey ensure data privacy and security?
BlockSurvey prioritizes data privacy by utilizing end-to-end encryption, ensuring that only the survey creator and respondents have access to the data. Unlike JotForm and Typeform, BlockSurvey does not store data on their servers, giving users complete control over their information.
Can BlockSurvey handle AI-driven surveys?
Absolutely! BlockSurvey offers advanced features for AI-driven surveys. It provides capabilities like sentiment analysis, natural language processing, and machine learning algorithms to derive deeper insights from survey responses, making it an excellent choice for AI-driven survey projects.
How does BlockSurvey compare to JotForm and Typeform in terms of customization options?
BlockSurvey offers extensive customization options, allowing users to create personalized surveys with unique designs, layouts, and branding. Unlike JotForm and Typeform, BlockSurvey provides more flexibility in customization, ensuring your surveys align perfectly with your brand or project requirements.
Run sensitive surveys.
Get insights.
Unlock value.
Free plan, no time limit
Set up in minutes
No credit card required
---