Usabilla Alternative
User research and feedback tools are necessary to build customer-centric products. It's hard to find the best solution and assess its potential for your case. User testing is a useful tool, but there was no clear winner in the market. We have chosen Usabilla, and this blog is about their alternatives - Blocksurvey.
If you've been reading anything about user experience, you've likely heard about Usabilla or BlockSurvey. These two tools allow you to quickly roll out surveys that allow users to quickly give you feedback on your website.
BlockSurveys is much like the Usabilla tool; it allows you to get feedback from your website visitors by displaying a form after they've watched a certain amount of videos. If they fill out the form you can see what they didn't like about the website, and you can make changes based on their feedback.
What is Usabilla?
Usabilla is an on-site user experience tool for web analytics and feedback. It allows websites and blogs to collect user feedback through various methods - including visual surveys, polls, smiley face ratings, and open text comments.
Usabilla helps with continuous visual feedback from customers. It lets you install a custom feedback button in just a few minutes, roll out targeted surveys and start preparing the results in our automatic and spontaneous reporting interface. Its parent organization or company is SurveyMonkey, so it needs to be good, right? But if everyone was satisfied, you wouldn't be looking for an alternative then.
What are the drawbacks of Usabilla?
Even though Usabilla is a pretty good online form/survey software, there are certainly a few drawbacks. To point out a very few.
Mobile usage: Usabilla is not a mobile-friendly tool. One of the fellow users says (because customer feedback is always very crucial!):
"The site is not set up for viewing on a mobile device, and there's no way to update the geographical obligation details and benchmarks for locations outside of the United States. In terms of navigation, there's no easy way to open multiple pieces of feedback in different tabs, and in some cases, extremely lengthy reviews are partially cut off in the hover preview. Being able to re-organize the dashboard (Ex. Have 'Most Active Pages' at the top), would also help with the administration."
For more detailed customer reviews, feel free to check this link out!
BlockSurvey as a Usabilla Alternative
BlockSurvey is all about their customers and what they need and want! We cater to everyone's needs and requirements because we truly understand what the customers are looking for in an online data collection space. Today, BlockSurvey has widgets to collect user feedback on websites.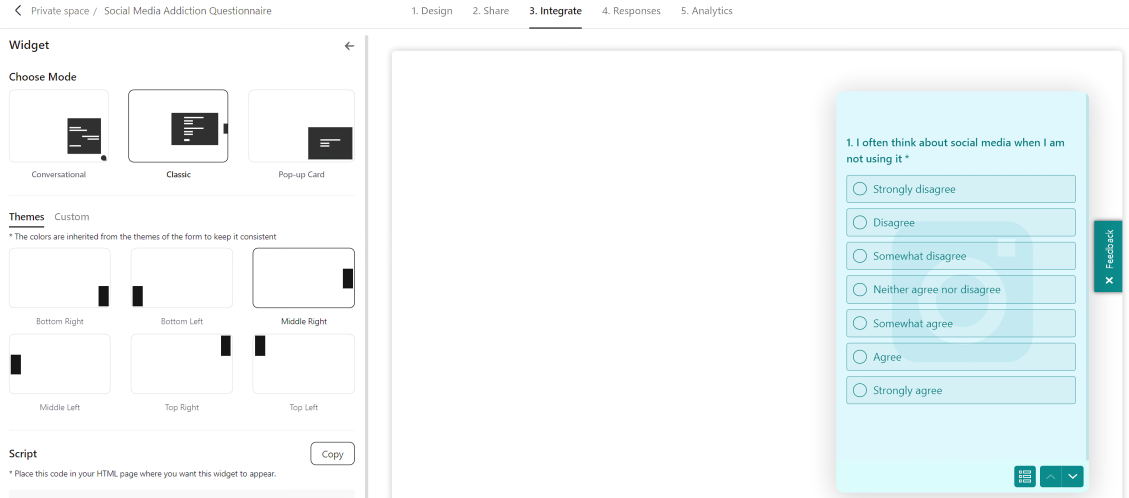 More to it, the following is the list of key advantages of BlockSurvey.
Mobile usage: Yes. BlockSurvey is both a Web App and works just fine on any modern browser, and it is device agnostic. Hence we can assure from whichever device you're willing to make forms or surveys from none other than BlockSurvey, we'll be there for you!
Customization and functionality- Customization and functionality are some of our major feelings of pride! We recognize and really appreciate you taking charge and customizing your own forms and giving them an entirely new look! You get to experiment with various colors, customize the backgrounds, fields, even customize branding logos, URLs. Etc. It's time to let your creative side free!
Integrations: Integrations are perhaps the most basic things required today. It's vital because incorporation encourages you to move the information to important frameworks in the association. We use webhooks and integrate with Zapier, any middleware/integration platforms that further associate with 1000+ different platforms.
Widgets- Here in BlockSurvey, we prioritize our customers the most. If you or maybe your team wants to distribute forms on your very own personalized website using engaging widgets to collect subscriptions or maybe feedback, BlockSurvey makes sure you're able to do it with ease and comfort.
Branding- Branding is essential for any company to be a start-up or business; branding's a must. BlockSurvey lets you experiment and create your very own customized brandings!
Security: BlockSurvey by design allows the digital rights for the users. By this, the customers are in full control of their data and not anyone else. You have your keys and only your key, and you get to unlock the data.
Summary: Usabilla Alternative
BlockSurvey is a Usabilla alternative that you can use to ask questions to your visitors. Unlike Usabilla, BlockSurvey does not require an API Key, and it embeds surveys right into your website, allowing you to intelligently engage with your customers.
There's so much more that comes with BlockSurvey; for instance, its features pricing plans for students, Non-profits, and those working or has a business! But to know more about it you've to visit us and visit us asap!
Head directly to our website, BlockSurvey, and dive in to make your first ever form with us! I am sure you're going to enjoy using it, and you'll be back for more!
Usabilla Alternative FAQ
Why to choose Usabilla?
Usabilla is an on-site user experience tool used to collect user feedback through various methods ranging from surveys to polls and rating scales. Usabilla majorly used for collecting qualitative and quantitative user feedback across digital channels including websites, apps and emails.
Why should I choose Blocksurvey as an alternative to Usabilla?
BlockSurvey is device agnostic and you can access the survey templates and forms from any device you want. And BlockSurvey's customers have complete control over their data guaranteed with utmost privacy and security.
How much does Usabilla cost?
Even though Usabilla lets you enjoy a free trial, but not for too long, you've to start soon, paying around $49 for advanced features.
Run sensitive surveys.
Get insights.
Unlock value.
Free plan, no time limit
Set up in minutes
No credit card required
---
Run sensitive surveys.
Get insights.
Unlock value.
Free plan, no time limit
Set up in minutes
No credit card required