JotForm Alternative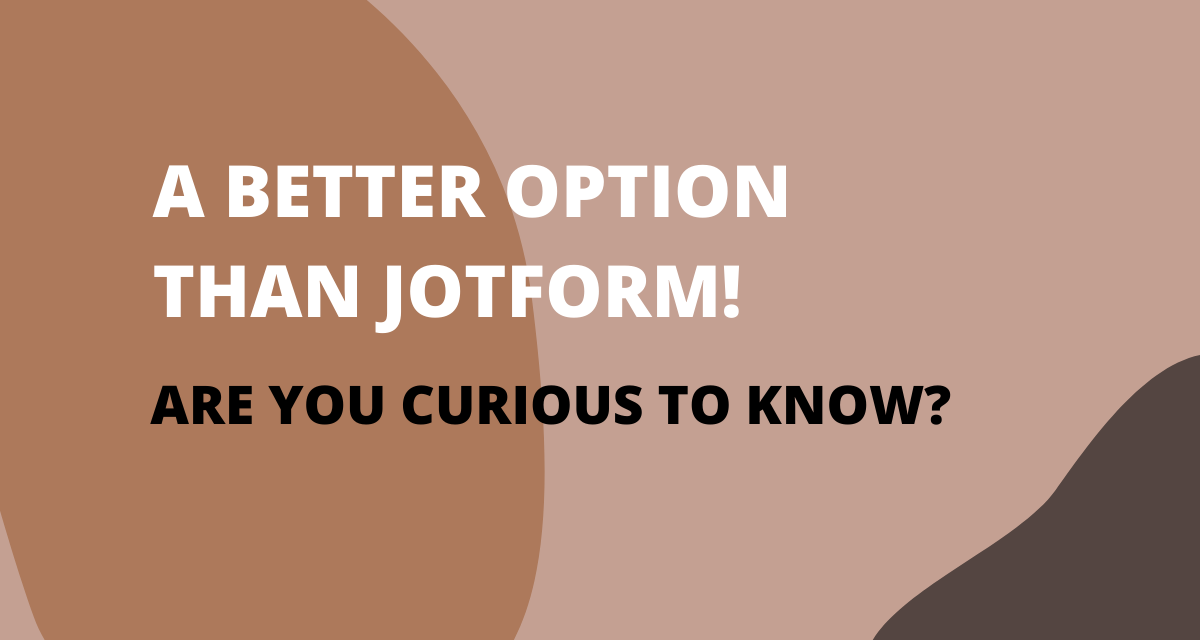 If you've ever needed to create a form, you know just how many tools there are out there. With all of the options available, how do you know which one to use? It can be a daunting task to find one that's right for your needs and even harder to find one that's easy to use and budget-friendly. In this article, we'll compare how BlockSurvey is an alternative to JotForm, and let's look at both their strengths and weaknesses.
What is JotForm?
JotForm is an online form builder that helps to create custom online forms for pretty much anything quickly.
Sounds pretty astounding but not before you realize JotForm only merely offers you 5 forms for the free plan, and that's it. Maybe you're like me, a college student, or anyone with a startup business brand, or even a researcher, and you're looking to save some money and enjoy some better privacy, security, and data ownership plans than JotForm.
If you are with us, you are probably curious to know if there are any other better options to it at all?
Why look for a Jotform Alternative?
When everything is very much dependent on the internet, we deserve better privacy, data ownership, proper anonymity, and security policies. Which sometimes even amazing sites fail to provide us with.
To answer this question promptly, I'll urge you to read a few reviews of users using JotForm and why they are not satisfied with this online application.
Chardon says,
"I have had two widgets there were in use on 20+ forms that no longer work and stopped working without notice... This is a BIG problem for me. And I will not continue to be a paid member if you will randomly quit supporting widgets without any notice.
Is there a way to tell which widgets will lapse? Or do I wait for my forms to break and get complaints from customers?-An unhappy customer.
We are not saying JotForm is not a good application; it is indeed is a great one. But like we're all aware, not all amazing things add up to everyone's expectations. Check JotForm reviews to understand why people are not happy and what they're exactly looking for.
Major drawbacks of JotForm
When you are trying to develop a form, JotForm cannot format a widget; thus, it comes across as plain text forms.
Very few integration options, especially when it comes to email marketing providers. No Amazon SES or large-scale mail provider support.
Designing the form is still very limited and looks aged.
You cannot use your own domain URL.
The customer service as well is quite unreliable, as seen from social media and reviews.
What is BlockSurvey?
BlockSurvery is one of the biggest JotForm alternative. Focusing mainly on digital rights(it is a human right). It provides users with better privacy, security, and data ownership. But unlike traditionally building the app, BlockSurvery is built on the theme of Web 3.0(uses Decentralized Tech / Blockchain. It uses one of the best blockchains called Stacks, which is secured by Bitcoin. Data privacy and security come from this. If you're using BlockSurvey, you can rest assured about the fact it's only you who owns your data!
BlockSurvey's only mantra is to provide data ownership and security for individuals or people in business who are willing to protect their valuable and precious data.
Reasons you are going to love BlockSurvey!
Let's you get creative - You are allowed to build it in your style. Each and everything is customizable. You get to play with different colors, customize the backgrounds, fields, branding logos, and URLs. etc. Let your creative side be free!
Answer Piping - Remembers your information (but in a non-creepy way). It's only natural that you might forget any previous questions answers, but we've got your back! Use Piping to create interactive conversational style forms and surveys.
Calculator - Write formulas in expressions to formulate custom scoring for any online quizzing.
Conversational - We have a perfect chatbot build for you that helps you form and one question at a time form to create appealing forms.
Conditional Logic - BlockSurvey lets you enable a respondent to jump to any particular question based on responses given. This helps build intelligence like conversations and gives you control over questions asked based on any given answers.
Widgets - If you want to share forms on your website using attractive embedded widgets to collect subscriptions and feedback, BlockSurvey makes sure you're able to do it with ease!
Integrations - Integration is one of the most critical things required today. It's vital because integration helps you to move the data to the necessary systems in the organization. Use webhooks and integrate with Zapier, any middleware/integration platform which connects to 1000+ other platforms.
Why use BlockSurvey instead of Jotform?
Suppose you are having a tough time deciding why to choose BlockSurvey still. Let me explain; whether you're a student, individual, or even a business, BlockSurvey looks out for you and makes sure you get to enjoy the best service!
Student - BlockSurvey is the first-ever online survey tool to be free for Students. Check our pricing page to enjoy free access. It's built to create creative, appealing, and conversational style surveys, making dull school work and research more a fun experience. You can mix it all you want. It could be images, videos, emojis. It's user-friendly and very productive. More to the design, no one can see the data other than you; you truly get to own your data with BlockSurvey.
Individual / Business - If you own a business, your basic priority needs to be security. And we here in BlockSurvey pride ourselves over the guaranteed security one gets to enjoy while using BlockSurvey. We are an affordable online form and survey management software. Our focus is on improving and increasing branding, productivity, security, privacy, and enhancing overall performance in your organization.
All in all, BlockSurvey caters to everyone's needs and is very inclusive. We understand what you want regarding privacy, data ownership, and make sure your data is limited to you and you only!. We take digital rights very seriously, as everyone should.
Oh hey – wait you're already here. Why not start your first form?
Head straight to our website and dive in to make your first-ever customized form! I am sure you're going to love using it, and you'll be back for more!
JotForm Alternative FAQ
What are the benefits of Jotform?
JotForm is a cloud-based form automation solution that enables users to publish online forms and record customer responses. It helps users to generate leads, collect order payments, conduct customer surveys, manage job applications and register guests for events.
Which is better Typeform or Jotform?
Reviewers felt that Jotform meets the needs of their business better than Typeform. Though Typeform lets you make attractive conversational surveys, comparing the quality of ongoing product support, reviewers felt that Jotform is the preferred option.
How much does Jotform cost?
Jotform's free plan lacks essential features, and the paid plans are too expensive for most teams. If you need more, the paid plans start from $ 24 per month.
Jotform vs BlockSurvey: Which one is better?
Blocksurvey is the most secure survey tool with the highest data security for the survey creators and their respondents. It is a combination of beautiful attractive forms with the highest data security to all your surveys. Jotform is a HIPAA compliance survey tool; Jotform is loaded with powerful features to help you collect and manage sensitive patient information. But that is in the case of Health information related surveys, but we can't ensure the same privacy in every other category.
Run sensitive surveys.
Get insights.
Unlock value.
Free plan, no time limit
Set up in minutes
No credit card required
---
Run sensitive surveys.
Get insights.
Unlock value.
Free plan, no time limit
Set up in minutes
No credit card required