LimeSurvey Alternative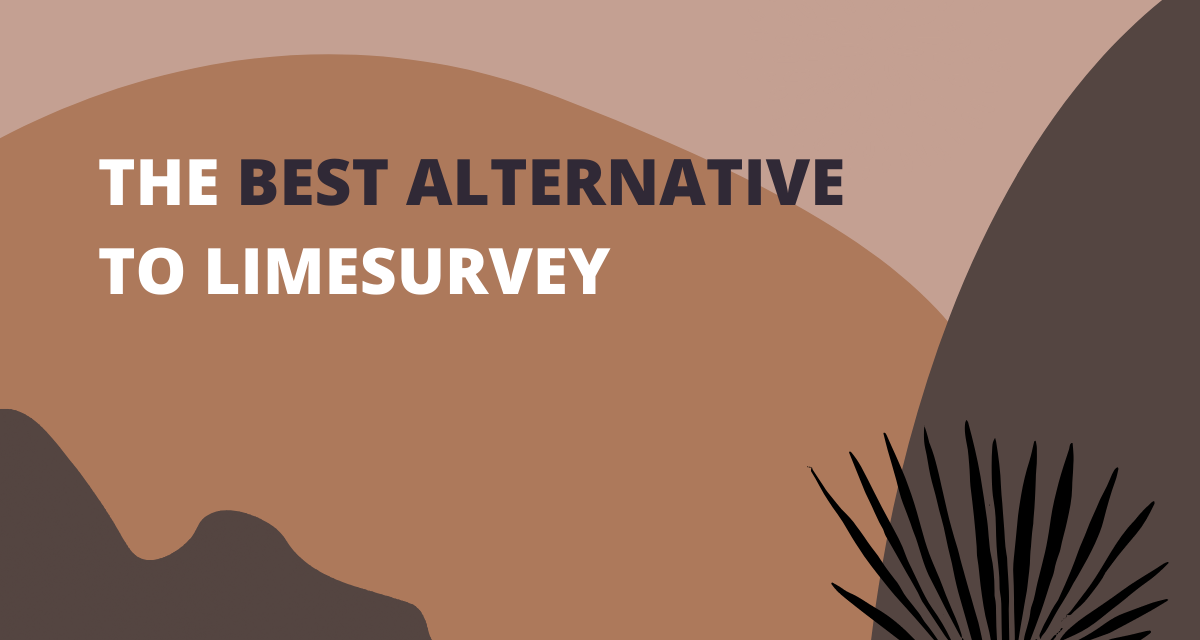 Have you been looking for a LimeSurvey Alternative? If so, then we have great news for you. You are not alone, as thousands of users are looking for LimeSurvey alternatives as well. If you've gone online and searched "LimeSurvey alternatives," then it's likely the survey software you've come across is called BlockSurvey.
BlockSurvey is a blockchain-based survey platform that helps users create, manage, publish and analyze online surveys. BlockSurvey is a LimeSurvey Alternative for three reasons: the price, the features, and the customer service. BlockSurvey shares the same worldview as LimeSurvey, and we admire LimeSurvey for the work they have done.
What is LimeSurvey?
LimeSurvey, also known as PHPSurveyor (formerly known as PHPSurveyor), is an open-source online survey application or software. It lets its users develop, publish, accumulate and gather responses to surveys. Surveys also might include branching, custom preferred layout, and design (using a web template system) and can provide beginner-level statistical analysis of survey results.Surveys might be public or sometimes strictly managed using "once-only" tokens meant for only an individual survey participant.
It doesn't sound too bad. But then why is everyone looking for an alternative, and why are you looking for an alternative as well? Let's dive in deeper into this world of the best alternative to know more, shall we?
LimeSurvey Reviews
LimeSurvey is a web-based survey tool with a focus on flexibility and ease of use. LimeSurvey is open-source software that allows you to create your own and publish and share surveys easily on the Internet. With LimeSurvey, there's no need to install any software on your computer — everything is web-based. Coupled with an active user forum and wiki, LimeSurvey is an excellent alternative for those looking for a free, feature-rich survey platform. Nothing worth having comes totally free, so here are some drawbacks of LimeSurvey. Let's see the benefits and limitations of LimeSurvey.
Benefits of LimeSurvey
One thing is clear – there are many benefits of using LimeSurvey. It is a versatile, open-source, cross-platform, and usable survey software that gives you the freedom to create different types of surveys or forms to suit your industry's needs. LimeSurvey has been rated as one of the best survey software in the market. Key benefits are as follows.
Self-hosting: Have you ever wondered why so many surveys are hosted by third parties? Survey hosting can involve many fees, and often, the service you pay for is not always the best. In recent years Survey Software companies such as LimeSurvey have enabled individuals to self host their own surveys. By self-hosting your surveys, you're in full control of your data and its information. If you are dealing with technology skills and developers, Self Host is recommended for more flexibility and better quality.
Open Source:There are many benefits to using LimeSurvey open source. Not only does it allow others to help you out, but it also allows the software to evolve better. This may be a big surprise since sometimes companies keep their software proprietary in the hopes of gaining profits from a higher price point than their competitors. BlockSurvey shares the same worldview as LimeSurvey and would eventually be Open Source soon.
Limitations of LimeSurvey
Recently, many people wonder if the LimeSurvey system is free in your lifetime. LimeSurvey is free software, but it does have limitations. Below are a few keys limitations that we think could have been better.
Usage: If you go through any of the LimeSurvey reviews in G2, one review that's going to stand out very often is how difficult or complicated it is to handle! For instance, one of the fellow users writes.
"A few things I dislike and could be done better... It isn't straightforward to use. It is hard to customize themes etc. there is no inbuilt builder in the platform, and the results are fundamental. I know you can export and create tables in excel etc., but more control would be nice, and custom graphs with a drag and drop approach would be amazing."
Limited customization and features: The room for customization is very less, you don't get to enjoy a lot of features, and you've to make use of options that are only available.
Outdated looks: Online surveys are meant to be trendy, helping the customers get more accustomed and comfortable with the version they are using. Unfortunately, even though LimeSurvey is such an excellent online form survey platform, it fails to deliver modern and trendy looks to its customers.
Pricing: Even though LimeSurvey lets you enjoy a free trial, but not for too long, you've to start soon, paying around $29-30 for everyone. This creates a problem and barrier for Nonprofits or maybe for someone who has just started a new business.
What is BlockSurvey?
BlockSurvey is surely one of the most effective LimeSurvey alternatives. Here's why we're so confident you will love and cherish utilizing BlockSurvey, as a survey tool. The primary reason is that BlockSurvey shares the same ethos and vision as LimeSurvey.
BlockSurvey provides digital rights for the clients. In short words, the record or character proprietorship and information control is with the client and not and won't ever be with the platform provider. When you are utilizing BlockSurvey, all your information's scrambled from start to finish, and you have the keys for them. This cutoff point further thwarts data infiltrates and trust issues.
Benefits of using BlockSurvey and why is it the best alternative for LimeSurvey
Since we've set up and discussed the drawbacks and significant pros and cons of LimeSurvey, even though it's an excellent online survey software, we should discuss why BlockSurvey is the best alternative choice for LimeSurvey. BlockSurvey offers you everything from a genuine perspective, and you'll surely appreciate using it!
Pricing/cost: The major downside of LimeSurvey is that it's very costly, and it turns into a broad and significant issue. Understandably, a student, researcher, or maybe a startup project manager might not be able to pay $30 every month. Here. We come into play! BlockSurvey has plans for students and businesses; check out the plans over here because we try to be inclusive and consider everyone's needs!
Security: Digital rights are as necessary as Human rights! We take security, data breaches, and protection to your data very seriously. BlockSurvey by default empowers the digital rights for the clients. By this, the clients are in charge of their information and not anyone else. You have your keys, and just your key can open or unlock your data.
Customization: Creativity is the key! Hence, customization is a necessary piece for both online form-making and survey platforms. Here in BlockSurvey, each and everything is customizable. You get to go crazy with different tones, even redo the settings, domains, marking logos, and even the URLs. You can't tell us; it doesn't sound fascinating!
Modern setup: BlockSurvey embraces change, and unlike a variety of platforms, BlockSurvey has a very modern approach and looks. The team here in BlockSurvey takes feedback from clients very acutely, so we are always evolving, adapting, and changing our software for good each time!
There are so many more advantages you get to enjoy once you start using Blocksurvey! But for that, all you need to do is sign up now and enjoy the best service you could imagine!
Summary: LimeSurvey Alternative
Head straight to our site, BlockSurvey, and jump in to make your first ever customized form! We're sure you will love and appreciate using the software so much, and you'll be back for more! Since we consistently promise and guarantee you, we continue improving and serving our clients' necessities.
Yes, even the best product has a worthy substitute. And when it comes to LimeSurvey, the best open-source survey software in the market, there's one such alternative that can help satisfy most of your needs. BlockSurvey is most definitely a worthy LimeSurvey alternative.
LimeSurvey Alternative FAQ
Is LimeSurvey the Best Survey Tool Out There?
Even though Limesurvey is the open-source tool and one of the choices for the best survey tool, it has its own drawbacks to question. Being an open-source project makes the software lag due to non-extensive support. The main website and the survey website are both different and require additional knowledge to deal with their complex UI.
How much does LimeSurvey cost?
Even though LimeSurvey lets you enjoy a free trial, but not for too long, you've to start soon, paying around $29-30 for everyone.
What are the best LimeSurvey alternatives?
BlockSurvey is one of the best alternatives for Limesurvey, with BlockSurvey you can easily set up and create surveys that are customizable, you can add a wide range of questions, images or videos to your survey. Make it more attractive and easily increase your response rates.
What is BlockSurvey?
BlockSurvey is a blockchain-based survey platform that helps users create, manage, publish and analyse onlinesurveys.
Run sensitive surveys.
Get insights.
Unlock value.
Free plan, no time limit
Set up in minutes
No credit card required
---
Run sensitive surveys.
Get insights.
Unlock value.
Free plan, no time limit
Set up in minutes
No credit card required