Alchemer Alternative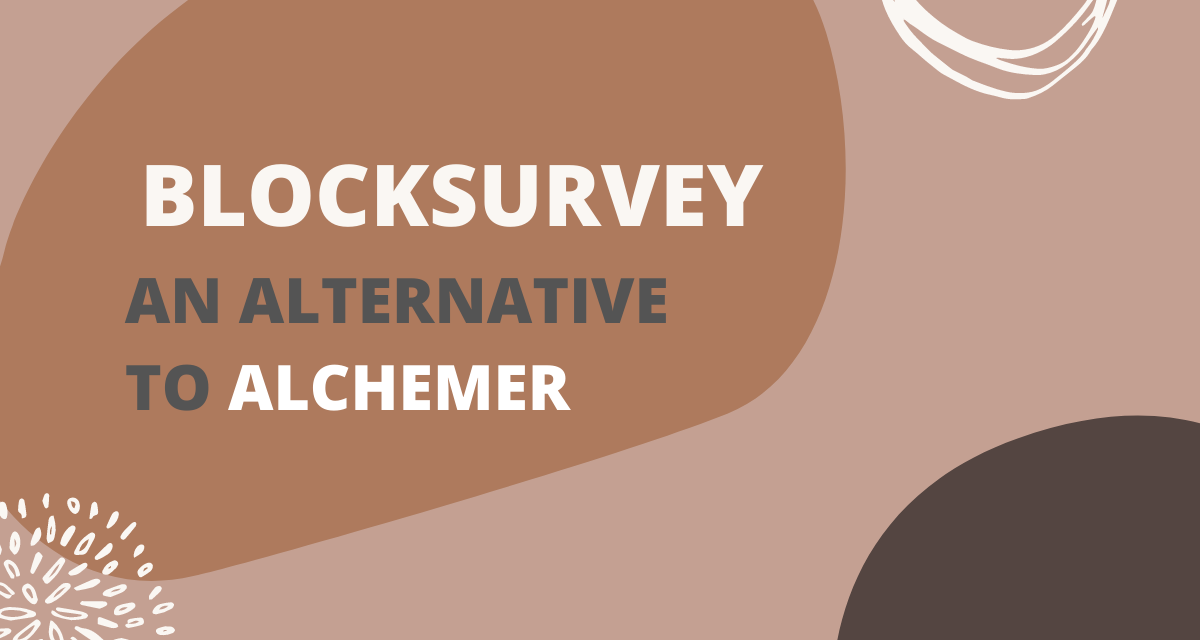 Replacing an existing solution can be challenging, especially if that solution is put in place by a company with years of experience and knowing how to do it right. But it's worth considering if the new option is better. And Achemer isn't always. That's why we started Blocksurvey, a survey alternative to Achemer, with dozens of extra features that you won't find anywhere else. Turning surveys into the best marketing tools they can be.
What is Alchemer?
Alchemer, or as formerly known as SurveyGizmo, was founded in 2006. Its main functionality is modifying raw feedback into operational gold by placing the feedback data in the hands of the people who can take action through their systems every day. They help the customers collect the best feedback from any source, entirely and without concealed costs making it easy to integrate that feedback into their customers' core business applications. And also helps customers consolidate and connect input across the organization.
Why look for an Achemer alternative?
Here are the main reasons you need to choose an alternative to Alchemer for advanced research.
Finest customer service: Customer support is of high focus to us. Customers often need guidance or basic help to solve issues during their research journey. But when it comes to Alchemer, even though it's a good online survey site, it lacks a lot when it comes to customer service.
Price: The price keeps on rapidly increasing. Albeit they are continuing to offer extra and new functionalities along with that price, but the price happens to be a major factor, considering not everyone can afford it easily!
Simple to use software: Alchemer's platform is relatively difficult to get a hold of, and creating simple surveys can get tough. We can all agree that researchers, students or anyone using the software requires powerful yet easy to use. Setting up skip or branching logic to extensive surveys can get tedious with a complex survey platform design. Today, surveys have evolved and demanded a lot from the software program.
Longitudinal research: Alchemy does not support the tools to administer any sort of longitudinal research and is a solid reason to start looking for a better alternative. Companies must keep an eye out for changing consumer response, consumer attitudes, and satisfaction levels across customers and the representatives or agents.
Limited customization- Very limited number of customizations are available which sometimes does hamper the look and feel of the survey page!
We are not here to humble Alchemer, we don't do that here. But, like we know all good things also have a downside and we are here to help you make a wise decision by being honest about why you need to check other alternatives out!
Alchemer Reviews for yourself fo r a more detailed understanding! Or head over here as well for SurveyGizmo Reviews and problems that people are facing while using Alchemer.
What is BlockSurvey?
Talking about better alternatives, one cannot help but mention BlockSurvey. We hear you, why do you ask?
BlockSurvey mainly focuses on digital rights and provides its users with better privacy, data ownership, security, and data security. But unlike any regular web applications, BlockSurvery is built on the subject of Web 3.0 and uses one of the best blockchain technologies for providing data privacy and security. If you're using BlockSurvey, we can guarantee you that it's only you who owns your data!
BlockSurvey's sole motive is to provide data ownership and security for individuals or businessmen who are willing to guard and protect their valuable and precious data.
Why use BlockSurvey instead of Alchemer?
Pricing: One of the major drawbacks of Alchemer happens to be pricing. But here in BlockSuvery, we make sure everyone can easily use our survey platform without thinking twice about money, etc. We have great offers for fellow students who might find it tricky to afford an expensive mode of online survey forms.BlockSurvey is the first-ever online survey tool to be free for Students. Check our pricing page to enjoy free access. It's built with a focus on creating creative, appealing, and conversational style surveys. Which makes dull school work and research more a fun experience. You can mix it all you want. It could be images, videos, emojis. It's user friendly and very productive. More to the design, no one can see the data other than you; you truly get to own your data with BlockSurvey.
Customization: As much as we enjoy being creative and making our software the best online survey platform. We also respect and really let you be creative with your own forms! You are allowed to build it in your style. Each and everything is customizable. You get to play with different colors, customize the backgrounds, fields, branding logos and URLs. etc.
Integrations: Integration is one of the most important and vital things required today. It is important because integration helps you to move the data to necessary systems in the organization. Use webhooks and integrate with Zapier, any middleware/integration platform which connects to 1000+ other platforms.
Some more added advantages you get to enjoy!
Got you! You thought you get to only enjoy these limited yet super crucial upgrades? There's a lot more we offer. Such as:
Security: Here in BlockSurvey, security is our main concern. We make sure you and only you get to enjoy and own your data, and at the same time, not have your integrity leaked.
Zero Tracking: Surveys and forms here in BlockSurvey have completely zero trackers, zero cookies, as well as zero fingerprints. These respondents or data providers will always be unknown by default unless they wish to share their own identity in the form voluntarily by filling it, but that's put to that special person.
Conditional reasoning:BlockSurvey lets you enable a respondent to jump to any critical and specific question based on responses given. This helps increase intelligence like conversations and gives you an exclusive command over questions asked based on any given answers.
BlockSurvey provides everyone's needs and is very inclusive, be it research or development, program manager, etc. We understand what you want in terms of security, customer service, integration, and then the major factors such as privacy, data ownership, and make sure your data is only limited to you and you! We take digital rights very sincerely, as everyone should.
Also, if you happen to be a fellow researcher or a student, BlockSurvey makes it easier for us by offering a free student plan. Which helps students out daily and is an amazing deal!
Oh hey – wait, you're already here. Why not start with BlockSurvey?
I think it's only fair that you started making some beautiful customized form designs! BlockSurvey happens to be the perfect alternative for Alchemer. So, why don't you head straight to BlockSurvey and dive in to make your first ever customized form! I am sure you're going to enjoy using it, and you'll be back for more! Because our main motto is we make sure we keep on developing and improving and striving to serve our customers' needs.
Alchemer Alternative FAQ
Are Alchemer's survey pages customizable?
Though there are several unique and better features in the survey pages of Alchemer, they have only limited customization options and their survey pages are more generic.
Why BlockSurvey is a much better option than Alchemer?
BlockSurvey has a wide range of templates that are customizable and are in a conversational style. BlockSurvey doesn't try to identify the user and runs any analytics or trackers, unlike other platforms. And the pricing is comparatively low than any other platform.
What are the main drawbacks of Alchemer and its survey pages?
Not everyone can afford the prices of Alchemer and their services do not meet the demands in terms of guiding their customers.
How secure are the data provided in BlockSurvey?
BlockSurvey focuses on data security over everything. At BlockSurvey will never be with the platform provider and the data is owned and controlled only by the user.
Run sensitive surveys.
Get insights.
Unlock value.
Free plan, no time limit
Set up in minutes
No credit card required
---
Run sensitive surveys.
Get insights.
Unlock value.
Free plan, no time limit
Set up in minutes
No credit card required