Microsoft Forms Alternative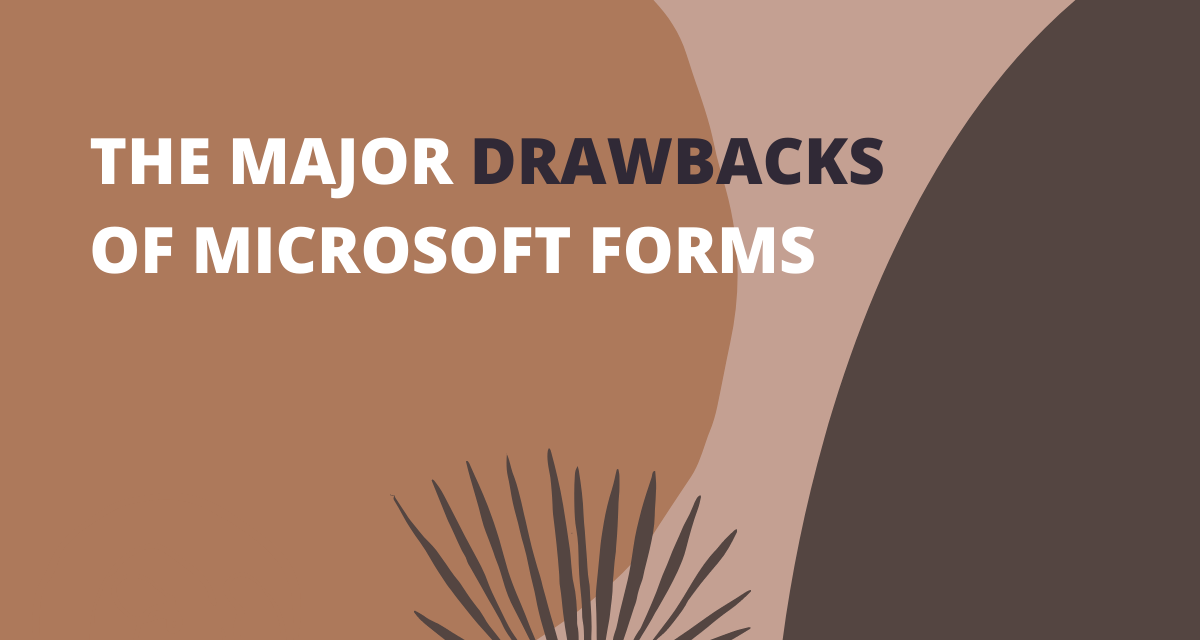 Microsoft Forms is a great tool for teachers, students, or researchers to have. But if you are a small-sized or mid-sized organization investigating the best alternatives to Microsoft forms to solve your survey needs, then you are at the right place.
Though it comes as a part of Microsoft's Office 365 cloud solution, one of the biggest problems is that it lacks many advanced features that are so basic in the other alternative form builders. Most form builders today have a huge collection of templates, attractive user interfaces, and most importantly, privacy-focused survey solutions to protect the data on both sides.
Taking privacy as the prime concern, BlockSurvey is a secure and highly-customizable survey tool that uses blockchain technology to improve the data privacy of the survey creator as well as the respondent. Let us dive deep into why BlockSurvey proves to be the best alternative to Microsoft forms further in this article.
What is Microsoft Forms?
It is a very widely used online form software. Microsoft Forms is an online survey creator, and at the same time, it's a part of the Office 365 suite of products. Microsoft Forms happen to be a straightforward, lightweight tool that lets you instantly create a form from scratch, collect and manage all the responses in real-time, and view automatic charts to conceive and at the same time visualize your data.
But here's the sad part that Microsoft Forms is sadly not available for everyone – only the business and education users get to enjoy the free access to Microsoft Forms, and you can't purchase it separately. Other than it's incredibly beginner's friendly. So if you are still here, maybe you wonder if there are any other better options to it at all than Microsoft forms?
Don't get us wrong; we absolutely love and recommend Microsoft forms though, we are not here to spread hate!
Why look for Microsoft Forms Alternative?
Even though Microsoft forms are so widely used, we still miss out on several unique opportunities. There are quite a few limitations in Microsoft forms as well, and we will look into a few of them minutely.
Let's see what one of the Form Builder Expert, "Ari Denial," thinks about Microsoft Forms.
"Microsoft Forms is a very basic form builder that you can access as part of Business or Education Office 365 – but not if you have a personal subscription. It's super simple to use, but it lacks any features that would make it useful. Quite honestly, there are much better options."
Major drawbacks of Microsoft forms:
Limited to only 100 questions- MS Forms has a limit of 100 questions on each form (at the time of writing). This could be problematic for research studies.
Minimal branding- Customization and branding are still not currently available. All the forms show Microsoft's branding and not yours. Building brand consistency is not possible.
Templates - Microsoft Forms only throws in 12 templates to help you get started, and that's it. They are unimpressive and limiting to design better.
Likert scales are only limited to just 20 questions- The Likert does not count as one, whereas it counts as one per "statement" in the Likert.
Integration - It's a fairly basic form builder that's easy to use, but it lacks essential advanced features such as integrations with third-party apps.
Custom Domain - When it comes to custom domains or just domains. Microsoft Forms lagging a lot behind, and the customers aren't happy with it. Check out here the problems they are facing.
Here are a few questions people ask about Microsoft Forms(which justifies why you exactly need a better alternative for Microsoft Forms)
Are Microsoft Forms free- No, it's only accessible and free for educational and business users others don't get to enjoy that. You cannot even purchase it separately either.
Can you customize Microsoft Forms- Sadly, the customization for branding is minimal. The user only gets to change the image.
Microsoft forms can be tracked?- Yes, Microsoft forms can get tracked, which essentially is not exactly a good thing, forms being tracked.
What is BlockSurvey?
Microsoft Forms is a great tool for quickly setting up a poll or survey and letting users submit their answers through a browser or mobile device. However, Forms is severely limited in customization and data analysis, and collecting even a moderate number of responses can be an expensive endeavor. BlockSurvey is an online survey tool that offers a huge range of form templates and the ability to easily analyze the data you collect. It is the first zero-knowledge privacy-focused form and survey tool. It is powered by Stacks Blockchain and secured by Bitcoin.
Why is BlockSurvey one of the best alternatives for Microsoft Forms?
Custom Domain - We let you really enjoy all the freedom and make sure you get to customize everything from the domain, URLs, branding logos, fonts, tweak colors, buttons, fields, and background. You get to decide and customize everything!
Widgets - Share forms on your website using beautiful embedded widgets to collect all feedback and subscriptions.
Branding- BlockSurvey really let's your inner creative genius free. You get to customize brandings as well!
Security - BlockSurvey uses amazing, intense blockchain technology for providing data that assures you of amazing privacy and security. While using BlockSurvey, you truly own your data. Don't worry about data thefts or leaks. You are always in control of your data.
Tracking - Surveys and forms have absolutely zero trackers, zero cookies, as well as zero fingerprints. These respondents or data providers will always be anonymous by default unless they wish to disclose their identity in the form by filling it voluntarily, but that's put to that particular person.
BlockSurvey provides to everyone's needs and is very inclusive. We don't discriminate what you do or don't. We understand what you want in terms of custom branding, domains, and then the major factors such as privacy, data ownership, and make sure your data is only limited to you and you! We take digital rights very seriously, as everyone should.
Now that we've established how you can get creative while making forms, I think it's only fair that you started making some beautiful customized form designs!
Oh hey – wait you're already here. Why not start your first form?
Head straight to our website and dive in to make your first ever customized form! I am sure you're going to love using it, and you'll be back for more! Every month, we make sure we keep on improving and strive to serve our customers' needs.
Microsoft Forms Alternative FAQ
Which is better Google forms or Microsoft forms?
Google Forms is great for saving a buck, but with less features when compared to every other player on the ground. Google forms are extremely limited when it comes to customization or integrating payments. So comparatively Microsoft forms is a better option with its premium features.
Is there a free version of Microsoft forms?
Microsoft forms has a free version of it with limited features but extended features like increasing the no. of respondents or using various built-in templates are only available with Office 365 subscription.
Is Microsoft forms free with Office 365?
Microsoft Forms is an online form builder that's part of the Office 365 platform – but it's not available for everyone – only Business and Education users get free access to Microsoft Forms, and you can't purchase it separately, either.
Is Microsoft forms safe to use?
Microsoft forms are not entirely safe to use as their forms are tracked. Data is stored on their own server, so you cannot entirely promise on the Data privacy.
Run sensitive surveys.
Get insights.
Unlock value.
Free plan, no time limit
Set up in minutes
No credit card required
---
Run sensitive surveys.
Get insights.
Unlock value.
Free plan, no time limit
Set up in minutes
No credit card required