Run sensitive surveys.
Get insights.
Unlock value.
Free plan, no time limit
Set up in minutes
No credit card required
Top 5 SurveyMonkey Alternatives And Competitors To Use In 2023
SurveyMonkey is one of the spearheads of online survey tools, its simplicity, rich features, and freemium plan obviously makes it one of the best option to go with when it comes to your survey needs. But we are pretty sure if you are searching for the best alternatives for SurveyMonkey. You must have really felt the same flatness and insecurity to your data apart from the shiny flavored features it has.
Here we suggest you with the top 5 best, most secure, feature-rich online survey tools better than SurveyMonkey. And also, if you are privacy-focused and seeking alternatives, you should definitely look into these options, saving you from the boring same old-fashioned SurveyMonkey user interface and their less transparent data privacy policies.
SurveyMonkey alternative 1: BlockSurvey
BlockSurvey is the World's most secure survey tool which completely provides data security to its survey creators and its respondents. BlockSurvey is an end-to-end encrypted survey tool with plenty of rich features that provides you with participants' complete privacy, anonymity. and security. We are living in the "Crypto" era, where cryptocurrencies and Blockchain technologies are decentralizing the world. BlockSurvey is the very first online survey tool that uses Stacks Blockchain, which is secured by Bitcoin to power up the surveys.
Why BlockSurvey is the best alternative?
BlockSurvey has a bundle of meaningful and intelligent features like skip logic, a custom domain that helps the users to create a survey, that looks beautiful in interface aspect, professional in its format and secured in terms of data privacy. This survey software comes with pre-built templates, GPT-3 based survey creation, multiple question types, an intuitive drag-and-drop tool, and more. It has all the best features of the leading online survey tools including SurveyMonkey, but the current situation of Surveillance Capitalism creates the need for a more secure platform to rely on for all your survey needs and BlockSurvey serves the purpose.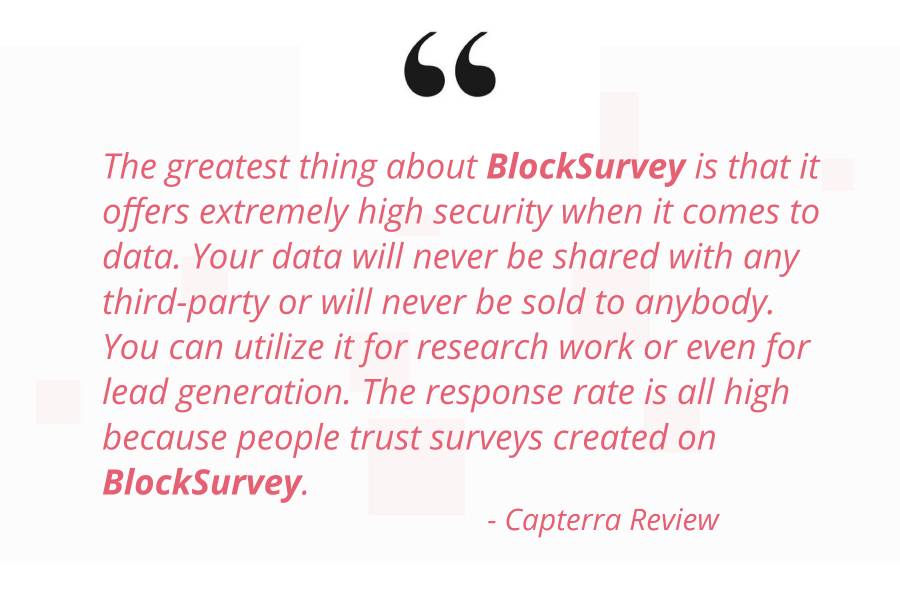 The most notable features of BlockSurvey are,
Beautiful Surveys:
BlockSurvey being the youngest in the industry gives you a better alternative for SurveyMonkey in terms of beautiful, fresh-looking forms, that feel attractive to your respondents, BlockSurvey puts an end to the old-fashioned, boring forms by having conversational style forms to keep the interest of your respondents.
Maintains Anonymity:
With BlockSurvey you can really create an anonymous survey, unlike other survey platforms, BlockSurvey doesn't store or use any of your data. Most online survey tools store the data of their users without encryption and use it for Targeted Marketing purposes.
But BlockSurvey uses the Decentralized identity bootstrapped from Bitcoin when you create your account, which in turn gets you a seed phrase which is your own secret key used in end-to-end encryption of all your activities, and that's only known to you. BlockSurvey strongly believes 'You own your data, it's your digital fundamental right. This maintains the anonymity of the creator as well as the responder.
High response rates:
So far, the overall users of BlockSurvey felt a high response rate than their previous survey tools. They found the main reason behind this, is the Data privacy feature which eliminates the fear of data security among the respondents and ensures as the most secured platform to keep their anonymity. This in turn helps them give their honest responses to the survey and an increased Survey Completion Rate.
Decentralized Storage:
All your data collected is encrypted using your public keys and is stored in the decentralized storage, and only your keys can unlock it. By giving you real ownership of your account/identity and data, you get your digital rights.
In Short: BlockSurvey is the best in terms of New-gen survey features, easy customization, and the most secured Data privacy survey. And you must try out, how the BlockSurvey AI helps you to figure out the best questions for your survey. When you get a whole lot of features in the basic plan itself, why not give it a try?
SurveyMonkey alternative#2: Zoho Survey
Zoho Survey is one of the decent alternatives available for SurveyMonkey, it is very intuitive to use with more users liking its customization option and pricing policies. Zoho survey keeps it simple and user-friendly, which attracts many of its users.
Why Zoho Survey?
Customization is one of the best-loved features of Zoho Survey, pre-built templates, 100 question types, and more. Obviously, it has more features than SurveyMonkey and even Google forms. It integrates well with other apps like Hubspot, Marketo, etc. Zoho survey is very easy to set up and it seamlessly works with your website.
Where does Zoho Survey fail to impress you?
Though it's very easy to set up and user-friendly,the logic feature is so basic compared to the rest of the alternatives in the category. Some of its users found the survey interface a bit boring and dull. So it may affect your survey completion rate to some extent. You can go for it if you want to run a simple survey.
SurveyMonkey alternative 3: Zonka Feedback
Zonka Feedback is a user-friendly and more comprehensive alternative to SurveyMonkey. In addition to an easy-to-use survey builder, this survey software also allows businesses to gain a 360-degree view of their customer behaviour at every stage of the customer journey.

Why Zonka Feedback?
Zonka Feedback offers a powerful way for omnichannel customer feedback and experience management at much lower pricing plans. The tool's reporting and analytics capabilities enable enterprises, startups, and businesses of all sizes to collect customer data, measure satisfaction levels, automate or take instant actions, and close the feedback loop to boost customer experience. It also integrates with several business apps to help you sync customer responses alongside their data to get a consolidated view of their customer journey and their sentiments across every touchpoint.
Where does Zonka Feedback fail to impress you?
The tool lets you measure three prominent CX metrics - CSAT, NPS, and CES. They can optimize their platform for calculating other customer experience scores like customer retention rate (CRR), customer churn rate (CCR), customer service satisfaction (CSS), customer health score (CHS), and more.
SurveyMonkey alternative 4: Qualtrics
Qualtrics is more used as a research tool than a survey platform, it fits best if you are using that for education or any other academic purposes. This survey tool has some cool pre-built survey templates and 100 question types that attract the respondents.
Why Qualtrics?
One of the most amazing features of Qualtrics is its Expert Review, using this AI-powered advanced feature, the tool analyzes all of your questions in real-time. Based on it, you get personalized recommendations to boost your response rates.
Where does Qualtrics fail to impress you?
The main setback with this tool is, we can integrate only with a limited no. of apps. There is a chance of you losing the data because it doesn't have an 'Auto save' option.


SurveyMonkey alternative 5: Alchemer
SurveyGizmo, now changed to Alchemer is one of the decent alternatives to SurveyMonkey with simple, user-friendly, flexible features to it.
Why Alchemer?
Easy to integrate with Salesforce, Google sheets, Webhooks, and more. It has recently introduced many new features that are currently available with the other competitors in the market. They also have a free plan that allows you to take up to 3 surveys at once, collect 100 responses for each survey, and ask unlimited questions.
Where does Alchemer fail to impress you?
The pricing of Alchemer seems a little expensive for the features it gives in a particular package. Poor customer survey is also felt one of the reasons for switching from them as per the user's reviews.
Conclusion
Now you got an overview of the Top 5 alternatives available with all the details of their features. BlockSurvey is one of the most secure survey platforms using next-gen Blockchain technology. It is simple, easy to integrate, and has attractive features, making your respondents all in love with your survey. Start your free trial now.
Run sensitive surveys.
Get insights.
Unlock value.
Free plan, no time limit
Set up in minutes
No credit card required
---