Run sensitive surveys.
Get insights.
Unlock value.
Free plan, no time limit
Set up in minutes
No credit card required
Does SurveyMonkey Track IP Addresses?
The answer is 'Yes.' If you are a respondent, your IP address is sent to the data collector. Collectors, by default, will store the IP address of respondents in the survey results. If you are a data collector, your IP address is collected and per the privacy policy. Here is what we found from SurveyMonkey's help center and privacy policy.
By default, most collectors store the IP addresses of the respondents in the survey results. You may choose to limit or allow IP addresses to be reported in your survey results in the options while setting up the survey. If you prefer not to include IP addresses, you can choose to remove the IP addresses from all of your survey results. This option is available on the Survey Settings page.
Device and browser data. We collect information from the device and application you use to access our services. Device data mainly means your IP address, operating system version, device type, device ID/MAC address, system and performance information, and browser type. If you are on a mobile device, we also collect the UUID for that device.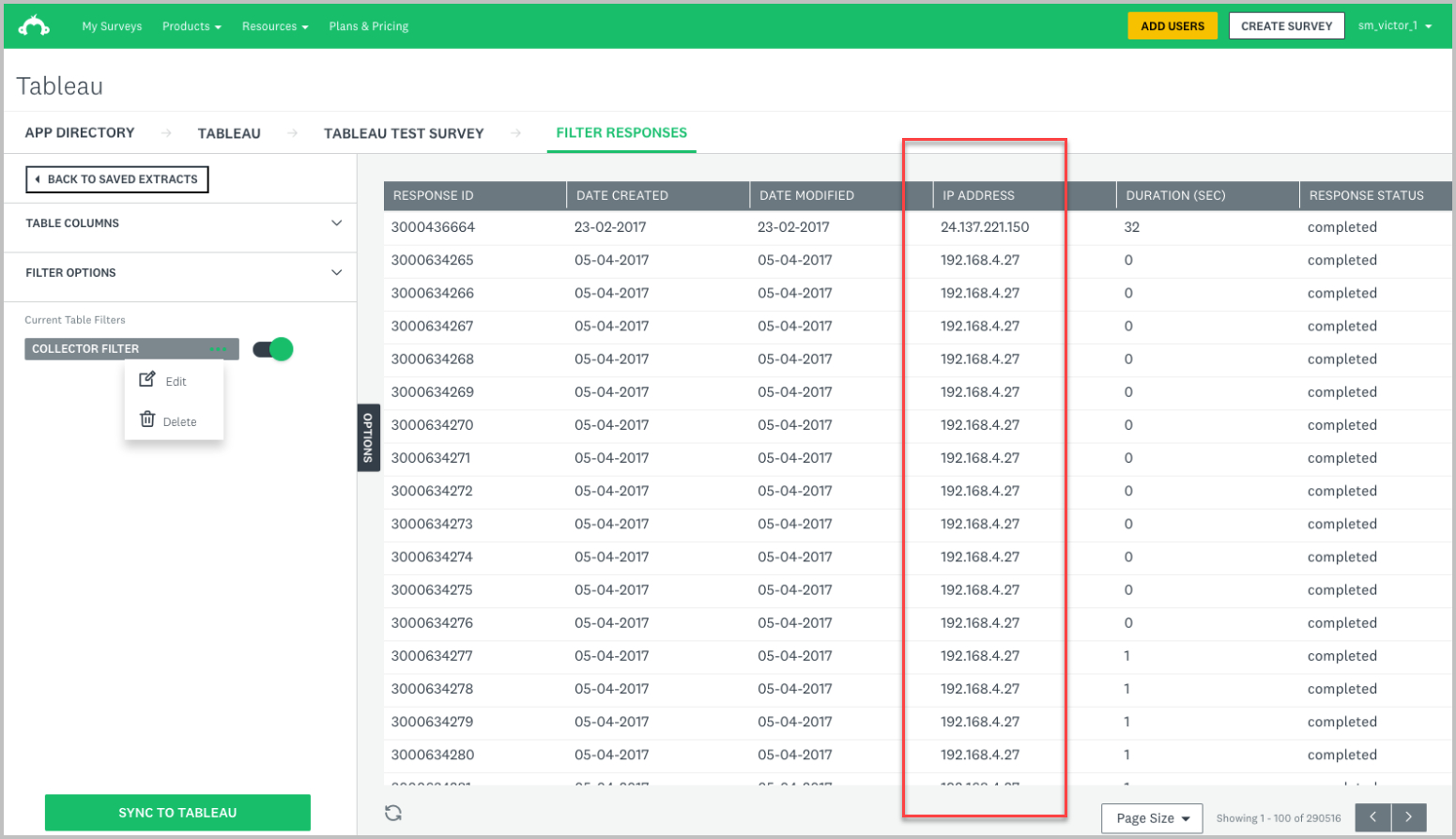 Why is it important to know if SurveyMonkey allow IP addresses to be reported in the results
Many times when surveys are posted as anonymous, the respondents have zero proof to validate if it is anonymous or not. The survey does have any easy visual indicator for respondents, whether it is tracking IP address or not. Limiting IP address collection will help ensure the confidentiality and anonymity of your respondents.
If you are using a third party for your surveys, this transparency is the problem. You might be wondering what else is being tracked under the hood. The reality is, they track far more than you may want them to track. You should become familiar with the 'Terms of Service' of the survey company and always read all documents thoroughly before signing up. Here is an excerpt from the SurveyMonkey privacy policy.
Log Data. Like most websites today, our web servers keep log files that record data each time a device accesses those servers. The log files contain data about the nature of each access, including originating IP addresses, internet service providers, the files viewed on our site (e.g. HTML pages, graphics, etc.), operating system versions, device type, and timestamps.
The purpose of collecting IP addresses is to prevent duplicate / multiple submissions. This said, there isn't a foolproof way to restrict responses per individual. The only way to prevent this is to enforce a decentralized pseudo-anonymous identity that enrolls the survey participants in a zero-knowledge way. So why not keep it anonymous by default. Here is our blog on "Is SurveyMonkey anonymous" for more details. It seems to us that SurveyMonkey cares more about the creator than the respondent and allows a bias in protecting privacy.
Generally, platform providers will not reveal the IP address of your respondents to anyone other than you. However, this confidential information is stored in databases. It can be accessed by SurveyMonkey staff members in rare cases when they are compelled to reveal the information by the law enforcement authorities or any court of law.
Takeaway: Use an anonymous survey tool
IP addresses can be linked to an individual person and used for malicious purposes, such as in a cyber-attack. Identifying an individual on the internet as an IP address reveals the location. Keeping the survey data clean is a responsible way to keep your respondent information secure. If you are still worried about how SurveyMonkey handles IP addresses, there are several tools available over the web, like the anonymous survey tool - BlockSurvey making it easy to collect data without any invasive trackers or analytics. For more, read BlockSurvey as a SurveyMonkey alternative. Sign up below to get started with BlockSurvey.
Run sensitive surveys.
Get insights.
Unlock value.
Free plan, no time limit
Set up in minutes
No credit card required
---