DNA of a Tokenomist
Introduction
The field of tokenomics is an emerging one. Hundreds of projects are issuing digital tokens to increase user adoption and usage. But do we need a token for a project? How does a Tokenomist decide this in the first place? What are their roles and responsibilities?
In this article, I intend to discuss the role of a token economist in designing a sound token economy and how a Tokenomist carrying out their responsibilities can make your project successful.
Who is a Tokenomist?
"Every emerging technology brings new and disruptive business models. And for blockchain technology, these are token economies".
Tokenomist is a professional specializing in tokenomics, which allows the creation of new innovative business models using tokens that disrupt traditional models. In addition, they may be involved in developing and implementing token models, creating opportunities for individuals and organizations to interact and transact with one another.
Having understood who a Tokenomist is, let us figure out what does he do?
Tokenomist can work in blockchain start-ups, cryptocurrency firms, consulting firms, financial institutions, or as a freelancer. Roles and responsibilities may vary according to the job role in the organization. It includes but is not limited to:

Developing strategy for projects tokenomics.
Research market data and analyze trends.
Interpret the data to develop the token design and brief about its use case.
Coordination with cross-functional teams, i.e., developers, economists, and finance.
Develop white papers and other requisite documents.
Identify the right token sale strategy to attract investors.
Communication with the project stakeholders about the tokenomics and use of tokens.
What does a typical day look like as a Tokenomist?
On any given day, a Tokenomist wears many hats. It's hard to say what there is a typical day for them. However, following are a few primary tasks that they carry out as a part of their regular activity.
1. Rolling out to the community and investors
Tokenomist might share a variety of information according to the needs and interests of their community audience, such as:
Sharing educational resources and tutorials related to tokenomics.
Insights about the best practice on tokenomics followed in the industry.
Update about the latest market trends and developments in tokenomics
Upcoming plans about the application of the token system in new projects
Update about token sales and the subsequent fundraising plan.
2. Review for identifying blind spots
Blindspot analysis uncovers dangerous, incomplete, incorrect, and outdated assumptions that restrict decision-making within the organization. A Tokenomist has to identify the blind spot for informed decision-making and stay current. We shall now discuss how a Tokenomist identifies blind spots in his role.
i. Collaboration
No one is an expert in design, so everyone's knowledge is a valuable contribution. They can identify the areas requiring additional attention by engaging with the stakeholders, including users, investors, or regulatory bodies. Tokenomist can locate the blind spot by discussing it with industry experts, mentors, and colleagues.
ii. Constant Learning
Constantly seeking new information and perspectives helps them perform better in their field. Hence by constant learning, they will identify the blind spots.
iii. Trial and Error
Few Tokenomist adopts trial and error to identify the blind spot in their work. Instead, he can create a simulation to see how different token frameworks will perform in different scenarios.
iv. Trend Analysis
As part of their role is into research, they use market trends, user behavior, and economic indicators to identify the blind spot. For example, one may use different statistical models and machine learning algorithms to identify a pattern and trend analysis that could not be inferred. They can also mock the existing tokenomics systems to identify the blind spot.
v. Evaluation
By reviewing and analyzing the existing system and process and assessing the vulnerability, a Tokenomist could identify the blind spot. Accordingly, one can make improvements to the project based on market conditions. As tokenomics is not written in stone, it has to be updated as and when the ecosystem evolves and build a strategy in line with current market standards. Below are a few compelling factors for a Tokenomist to make improvements to current tokenomics based on the market conditions.
a. Update the token economics
According to the market condition, one may need to adjust the tokenomics to remain attractive to investors since the economic model underlying the tokenomics plays a vital role in the adoption of the token by the community.
b. Adherence to regulation
Since technology is evolving, regulatory norms may undergo various changes in different jurisdictions. Therefore, Tokenomist has to ensure that his current model of tokenomics is compliant with the latest regulation that gives confidence to the investors.
c. Improving user experience
User experience has to be improved continuously by adding new features and offering unique experiences that would motivate them to retain existing users and attract new users.
It also helps them to stay competitive and tap the new opportunities available in the market.
What is the lifecycle of a Tokenomist journey in an organization?
The life cycle of a Tokenomist journey in an organization typically involves the following steps.
1. Tokenization Strategy
Any member of an organization should first understand the organization's goals and objectives, and a Tokenomist is no exception. Tokenization strategy has to be part of the organization's goals. Developing the right strategy for creating a token and a detailed plan on the steps involved, and identifying the resources required are essential for creating and managing a token.
2. Token Design
Deciding on the token's name, symbol, appearance, and additional functionality is also the responsibility of a Tokenomist.
3. Token Launch
Coordination with the stakeholders, development team, and legal experts for the successful launch of the token. One has to also ensure that all the regulatory requirements are adhered to.
4. Token Issuance and Distribution
Tokenomist has to ensure that the process complies with the necessary legislation by obtaining regulatory approvals and authorization for token issuance and distribution.
5. Audit of Smart Contract
Smart contracts being the heartbeat of an ICO, a Tokenomist has to ensure that they are secure and robust, reflecting the terms of the token agreement, and look for any security vulnerabilities in the system.
6. Adherence to Regulation
Adherence to relevant laws and regulations is vital for the success of any tokenization project. All activities related to tokenization must comply with the applicable laws, anti-money laundering regulation, and securities law and has to be ensured by the Tokenomist. In addition, they should ensure that the necessary license and registration are obtained.
7. Update the Community
Keeping the community updated about the project's progress at frequent intervals and addressing their queries or concerns is the critical role of a Tokenomist.
8. Performance Monitoring
Tracking the performance and value in the exchanges and updating the stakeholder is another task of a Tokenomist.
What are the critical deliverables of a Tokenomist?

Critical deliverables of a Tokenomist include but are not limited to the following.
1. Designing project flywheel
It involves how to create and maintain a robust ecosystem around the token. Tokenomist has to identify the following factors:
What is the token's use case?
How much incentive is to be provided to the users?
How will be the distribution and circulation of tokens?
Design mechanisms such as referral and reward programs to drive the adoption and usage of token.
Below token network effect graph has to be kept in mind while designing the project flywheel. Source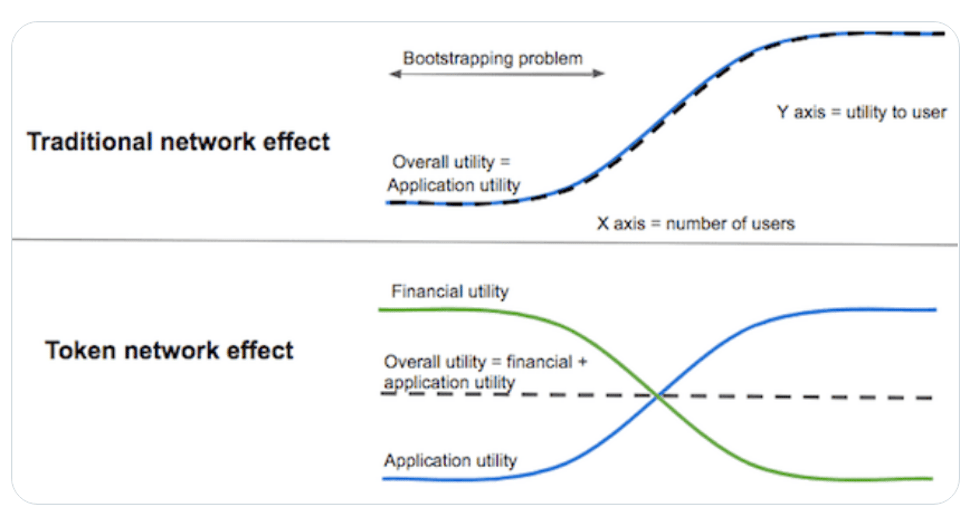 2. Transparent timeline
Specify the goals and objectives of the project and communicate a transparent timeline by when it will be achieved.
3. Monitoring the metrics
Include milestones or objectives for both aspects of the token and track the progress if the project will achieve the intended crossover. For instance, the following metrics can be used to monitor the network effect:
i. Number of transactions
More transactions indicate that the network is used frequently, and there is a growing demand for tokens.
ii. Social media presence
The growth of the network can be determined by social media adoption and popularity. A solid social media presence can also signify that the network is receiving attention and awareness from a wider audience, indicating its potential for growth and adoption. Social media platforms can also disseminate information about the network, including updates and new developments, which can help attract new users and increase adoption.
iii. Hash rate
The amount of computing power and hash rate determine the security and strength of the network. A high hash rate can indicate that the network is well-secured and that a large amount of computational power is being dedicated to maintaining its integrity. This is a positive sign for the network's long-term viability and can attract more users and developers.
iv. Developer activity
An increase in the number of repositories, developers, commits, and frequency of updates is a good sign for the increase of network effect.
v. Network value to transaction ratio
It compares the market capitalization of a token network to the value of transactions. A higher ratio means the network is overvalued.
vi. Number of users

When the number of users eventually increases, the demand for the token also increases, driving the token's price and market capitalization. It creates a positive feedback loop that drives further adoption and growth.
Why should the Tokenomist write about tokenomics?

Writing about Tokenomics can help to establish the expert as a thought leader and authority in the field. It also helps them to reflect on their work and learn from it. Furthermore, the other reasons to consider are discussed below.
1. Product promotion
A Tokenomist may write about the goals and strategies of the project. It can create and shape the community around the project and foster a strong and engaged community of supporters and advocates.
2. Demonstrate the skills
By publishing the articles or papers, the tokenomics showcase his knowledge in the field and establish himself as a thought leader. In addition, it builds his confidence and relationships and connects him with industry leaders and thinkers.
3. Staying up to date
Writing about tokenomics is a way to engage with the broader community of crypto enthusiasts and Tokenomist. Furthermore, researching and writing about different tokenomics models and their implications can deepen their understanding of the subject and stay current with the latest trends and innovations.
Why should a Tokenomist stay up to date?
Considering the new development and innovation in tokenomics, the Tokenomist must stay up to date in the field for various reasons, including the below.
To identify the emerging opportunity in the market and to be in a better position for identifying the initiatives and projects and develop an innovative model for their token. This would help them expand their knowledge base, stay current in the field, and identify, tap, and capitalize on the new opportunity.
To participate in the ongoing community discussions and debates about the field. This helps to increase his network, collaborate with his peers and contribute to developing the field of tokenomics.
To keep himself better positioned and mitigate any risk in the project. For instance, there could be new regulations for using a particular token model; staying current will help spot the flaws in the existing tokenomics and amend the changes accordingly.
To meet the client or stakeholder expectation, who would want their consultants to be updated on the latest development and have a deep understanding of the subject.
What should a Tokenomist not do?
A Tokenomist should work transparently and responsibly. He should maintain high ethical standards. Some of the things to avoid include the following.
1. Misrepresentation
Tokenomist should not misrepresent their expertise or credentials by saying they possess the skillset or qualification if they do not. Furthermore, they should not engage in behavior that compromises their ethics and moral standards.
2. Non-adherence to regulations
Tokenomist should not violate the applicable rules and regulations. They should have good knowledge of the laws and regulations in the country in which they operate.
3. Concealment of fact
Tokenomist should not conceal all the necessary information to the prospective investors and potential token holders about the project, tokens, and risks associated with investing. They should act in a fair and transparent manner.
4. Objectivity
Tokenomist should not allow prejudice or bias, conflict of interest, or influence of others to override objectivity.
5. Integrity
Tokenomist should not be engaged in insider trading, manipulating the market, or making misleading or false statements. In addition, they should not be involved in any unfair trade practice or fraudulent manner.
Twitter Handling Strategy
Social media networks like Facebook, Twitter, and LinkedIn have overtaken the world. From microblogging to YouTube-inspired sources of educational videos, these social platforms support managers in nurturing information distribution across disseminated society. In addition, these platforms provide an informal and relaxed environment for the public to share their ideas, brainstorm, and collaborate.
Let's discuss the possible strategy that can be considered by Tokenomist while handling Twitter space.
1. Share content
Blogs, articles, slides, educational content, or other types of visual aid of the project can be shared on Twitter. This increases visibility and drives traffic to your website.
2. Advertisement
You can reach the targeted audience with your message through Twitter's advertising platform.
3. Host an event
Host an event in the Twitter space by inviting speakers as individual contributors or as panelists. The event may be helpful for the attendees as they get different perspectives on a topic and act as a platform for knowledge sharing. In addition, the session can be made interesting and effective by answering questions, providing clarification, and encouraging discussion.
4. Update about the project
The latest improvements and developments about the project can be shared on Twitter to help the community and followers stay current.
5. Monitor hashtags
If any hashtags for your project are created, then you can monitor if there are any relevant discussions. This would help the Tokenomist know what is working well and what needs to be improved. It also creates the opportunity to collaborate with interested individuals or organizations about the project.
FAQ on what happens when a whitepaper or token is launched?
Generally, a white paper is shared with the public through websites, social media channels, hosting events, or webinars to discuss the document and debate its contents. A well-written whitepaper that discusses the problem, solution, and available opportunity with clear statistics is an attractive investment document for the prospective investor or partnership for the project. When a white paper is launched, the Tokenomist has multiple tasks to perform but are not limited to:

i. Token distribution
Coordination with legal and financial advisors, liasioning with market participants, and exchange. They are solely responsible for distributing tokens to the stakeholders and investors in a token generation event called ICO. (Initial Coin Offering)
ii. Community Engagement
Answering the questions raised, responding to feedback, facilitating discussions, and updating about the project's progress. They must communicate with the community and handle social media profiles and email newsletters.
iii. Marketing and branding
Create marketing materials, participate in events and conferences, and work with the media to generate project coverage. In addition, he should be directly involved in the marketing and branding effort to promote the project.
iv. Build association
Identify and build partnerships with other organizations or individuals who can influence the project to take it to the next level. For example, he may have to work with exchanges, other companies in the same industry, and payment processors to facilitate the use and adoption of tokens.
The tokens will be available for purchase by the users as soon as the token is launched. The responsibility of the Tokenomist includes but is not limited to the following.
i. Managing token distribution
Ensure that tokens are distributed to the intended recipients through airdrops or other distribution methods.
ii. Monitoring token performance
Monitoring the use within the ecosystem and tracking token value on various exchanges.
iii. Documentation
Maintaining technical documentation related to token launches and whitepapers.
iv. Liasioning
To work closely with the cross-functional teams such as developers, legal, and compliance team for the launch of tokens besides the stakeholders and external partners.
v. Community Engagement
Answering the questions raised, responding to feedback and facilitating discussions, and updating about the progress of the project
Key Takeaway

Tokenomics is a niche area, and I expect there will be a lot of scope for subject matter experts. Tokenomist as a career option can be incredibly rewarding with the right skills. There can be a 'no one size fits all' attitude when designing tokens, making it a challenging field for project designers to navigate during these early years of blockchain's evolution. A career as a Tokenomist will keep you busy and employed for years to come.
Run sensitive surveys.
Get insights.
Unlock value.
Free plan, no time limit
Set up in minutes
No credit card required
---
Run sensitive surveys.
Get insights.
Unlock value.
Free plan, no time limit
Set up in minutes
No credit card required