Best resources on Tokenomics You Should Not Miss
Introduction
"To make better decisions in Web3, you need to understand the basics of Tokenomics."
Some of the best things in life are indeed free, and it's especially true that some of the excellent educational resources are available to Tokenomist.
The world of tokenomics continues to evolve, and it's important to stay informed about the latest developments and trends. With proper resources, getting into tokenomics and improving the skill set can be easier. There is so much content out here on the Internet that sometimes can be overwhelming. Different resources provide different perspectives on a subject, that can be helpful for a learner to gain a broader understanding of the subject.
In this article, I have listed a variety of resources available on the internet, viz., Newsletter, Twitter, YouTube Channels, Online courses for learning, other social and digital resources that help you learn more about this exciting field.

Top 10 Newsletters you should subscribe to Learn Tokenomics
Newsletters are excellent means to receive good content that you are interested in. It helps you learn the subject with regular updates and information on that topic. These newsletters are delivered in your email box that contains simple text or structure composed of images and formatted text. Subscribing to a newsletter on tokenomics gives you regular updates on the development in tokenomics and recent trends that help you to stay current and informed. They provide links to additional resources like a webinar, research paper, or video that help you gain in-depth knowledge on the topic. It also provides opportunities for networking and professional development with industry experts. However, finding a good newsletter can be more complex and challenging than one might think. Therefore, all newsletters that I will discuss are prepared by people as passionate about Tokenomics as you.

So without further delay, here are my recommendations.
1. Tokenomics DAO
This tokenomics-focused research platform publishes bimonthly newsletters. The article format of Tokenomics 101 breaks down the detailed tokenomics of a specific protocol published every other Tuesday. In addition, all readers can access the podcast from community talks on Thursday. They uncover the treasure from crucial information that is buried deep inside scientific papers, simplify and share it with the community.
Link to subscribe : TokenomicsDAO Newsletter
2. Economics Design
This newsletter talks about the design of economic systems. It could be a video game simulated economy or a real business world like a frequent flyer point system or blockchain-based token economy.
Link to subscribe : Economics Design Newsletter
3. The Token Economy
This newsletter is published monthly on LinkedIn and authored by Andy Martin, with 6731 subscribers on Tokenomics and the blockchain. The contents can be orderly and comprehensively visualized and can be differentiated.
Link to subscribe : The Token Economy Newsletter
4. Messari Unqualified Opinion
This daily newsletter includes insights from research on crypto and blockchain space and tokenomics.
Link to subscribe : Messari Unqualified Opinions Newsletter

For those who are interested in insights and updates on the governance of top crypto projects, have a biweekly BreakDAOwn newsletter.

Link to subscribe : Messari Governor BreakDAOwn Newsletter
5. Tokeny Insights
This is a monthly newsletter that provides you insightful content and the key developments in the tokenization industry.
Link to subscribe : Tokeny Insights Newsletter
6. Step Data Insights
This is the only on-chain data insights newsletter that are being published for the Solana ecosystem with in-depth analysis of projects along with their tokenomics.
Link to subscribe : Step Data Insights Newsletter

7. CoinMarketCap
This newsletter, being published biweekly, gives you updates on the latest trends and news on the tokenomics of different projects, the performance of tokens in the market, and overall blockchain industry developments.
Link to subscribe : CoinMarketCap Newsletter
8. Bankless
This newsletter contains topics related to tokenomics, including yield farming, liquidity pools, stablecoins, and Defi space. They assist subscribers in learning how to free themselves from traditional banks and use crypto instead.
Link to subscribe : Bankless Newsletter
9. BanklessDAO
DeFi Download's monthly newsletter provides updates about the latest project and their Tokenomics tutorials, along with Tools, Tactics, and DeFi Security updates.
Link to subscribe : BanklessDAO Newsletter
10. The Defiant
This newsletter gives insights into tokenomics as part of its coverage of decentralized finance (DeFi) and blockchain-based technology and is published frequently.
Link to subscribe : The Defiant Newsletter
Top 5 Twitter accounts you should follow to get updates on Tokenomics

In one sentence, Twitter is - "what's happening in the world and what people are talking about". One of the best ways to learn a new topic is by picking from experts. You can be bombarded with so much information and content that is irrelevant to you. That's why I have tried to find influencers to follow to expose us to good content. By following them, you procure a share of their experiences, tools they use, posts, and articles they found insightful, meetups, and conferences in your feed. Here is my list of Tokenomics experts to follow on Twitter - people whose expertise and advice I enjoy and think you will, too. They are not in any particular order.
1. Lisa JY Tan
She is the founder and lead economist at Economics Design, a research-focused consultancy for digital ecosystems. In the academic world, she contributes to research work in various fields like math and economics while having practitioner exposure with startups and global businesses. She's also one of the leaders in a United Nations x Stanford University project on regulating digital currencies. Her tweets are on tokenomics and are helpful for anyone interested in learning about Tokenomics.
Twitter profile : Lisa JY Tan (@lisajytan) / Twitter
2. Florian Strauf
He is the founder of Tokenomics DAO. He has written many articles on tokenomics and published newsletters, and his tweets are primarily focused only on tokenomics. He has created a framework for designing tokenomics, a calculation template that will be helpful for the builders to develop tokenomics from scratch.
Twitter profile : Florian Strauf (@ffstrauf) / Twitter
3. Matty Tokenomics
He is the tokenomics lead at Status. im and former tokenomics researcher at Stacks. He has created a tokenomics design canvas to help builders have a framework for their tokenomics design. His tweets are primarily focused on tokenomics.
Twitter profile : mattySTX (@mattyTokenomics) / Twitter
4. Eloisa Marchesoni
Eloisa is a renowned Tokenomics Expert, helping token projects construct their token issuance to optimize the growth and usage of the network. She is often cited as a top expert in the mainstream press, such as Forbes, CNN, and Wired. Her tweets are primarily focused on Crypto and Tokenomics.
Twitter profile : Eloisa Marchesoni (@eloisamarcheson) / Twitter
5. Coinowl
Coinowl tweets about all the trending and upcoming projects in the crypto space with detailed tokenomics and vesting schedules. Follow them to get information on unlocks, tokenomics, ICOs, news, and alerts.
Twitter profile : Coinowl (@Coinowl_io) / Twitter
Top 5 YouTube channels you should subscribe for Tokenomics Learning
YouTube is an excellent resource to start learning foundational concepts. Many experts in tokenomics share tutorials on YouTube explaining the basics of tokenomics. In addition, some tutorials provide greater detail on tokenomics models, issuance, and distribution, providing in-depth knowledge. Here are a few YouTube channels I follow to learn about tokenomics.
1. Tokenomics DAO
This channel is focused only on Tokenomics. You will learn about the basics of tokenomics, framework walkthrough, the legal side of tokenomics, and many other evolving concepts in Tokenomics.
Link to subscribe : Tokenomics DAO
2. Economics Design
This channel is focused only on Tokenomics, and you will learn about the design of economic systems, the way to analyze and quantify such economic systems, and how these protocols work.
Link to subscribe : Economics Design
3. Cryptomatics
In this channel, you will learn about Tokenomics along with Crypto topics using animations, examples, and analogies to make learning easier for newbies.
Link to subscribe : Cryptomatics
4. CoinGecko
In this channel, you will learn about Tokenomics along with Crypto topics.
Link to subscribe : CoinGecko
5. Token Design
In this channel, you will learn about the basics of tokenomics along with the skills and tools required for a Tokenomist.
Link to subscribe : TokenDesign
Top 7 online courses you can enroll to Learn about Tokenomics
One of the best ways to commit to learning a new subject is by taking online courses. Though newsletters and tweets are great starting points for exploring a particular topic, online courses will provide the time and space you need to explore a topic and truly master a new subject. These courses are on-demand videos and exercises you can progress through at your own pace. It allows you to get a head-start on the fundamental knowledge of the subject. Below, I have gathered the top 7 online courses that you can enroll to learn about tokenomics.
1. Online Course Intro to Tokenomics "Make better decisions in Web3" by Tokenomics DAO
This is an introductory course on Tokenomics for beginners to mainly cover:
Learn basics of tokenomics
Key metrics of Tokenomics
Tokenomics Framework
Valuation Framework
Modelling & Simulation along with case laws
Though this is paid course free preview of lessons are available.
Click here to take this course : Tokenomics DAO
2. Tokenomics for Web3.0 entrepreneurs and founder by the Tesseract Academy
This is a free course on Tokenomics that gives you an opportunity to introduce you to tokenomics with the following topics:
Introduction to Token Engineering,
Token valuation,
Desigining Tokenomics
Sustainable Tokenomics
Click here to take this course : Tesseract Academy
3. Introduction to Tokenomics for Beginners by BitDegree Instructors
A curated selection of instructional videos that provide you the fundamental knowledge about tokenomics with following topics:

Tokenomics 101
Using Tokenomics to your advantage
Practical applications of Tokenomics
Click here to take this course : Bitdegree Instructors
4. Tokenomics 101 by CFTE
This free course will give a good understanding of tokenization and how it is changing the way the industry thinks about financial transactions, and it cover the following topics:

Introduction to Tokenomics 101
Relationship between Crypto and Fintech
Startup Business Models and Go-to- Market Strategies
Upon completion of the course earn a badge , share your course badge in the certification section on LinkedIn, and show your achievements to your network
Click here to take this course : CFTE
5. Token Economics – Designing the Blockchain Economy in Udemy
This is a paid course in Udemy and comprises the following topics in Tokenomics:

Tokenization
Decentralised organisation and design of incentive structure
Formation of large blockchain networks
Service oriented architecture
Growth and development of token economies
Click here to take this course : Udemy
6. Designing Tokenomics 101 course in Udemy
This is a paid course in Udemy and comprises the following topics in Tokenomics:

Evaluate tokenomics of web3 projects
Understand how demand and supply affect a web3 projects tokenomics
Learn the key building blocks of when and why to use a token in your web3 project
Complete case studies evaluating tokens and web3 tokenomics
Click here to take this course : Udemy
7. Tokenomics for Founders by esc
This is a 6 week course to take you from zero to one on tokenomics. At the time of writing this article, the application for enrolment in this course was open until January 21, 2023. In this course, you will learn:
How to maximize the value of your token and protocol using demand-side tokenomics
How to align the incentives of your protocol to prevent economic exploits
How to give your token a price floor
How to determine the optimal supply, distribution method, and allocation for your token
How to communicate these things to your users and investors
Click here to take this course : esc
How does other social / digital media aid in learning Tokenomics?
Reddit
The platform offers Tokenomics enthusiasts and practitioners a space to connect with like-minded people and share all kinds of Tokenomics resources with each other. Many individual projects and companies have their own subreddit where they discuss the tokenomics of their specific project or token.
Quora
Quora is a great question-and-answer platform to find answers to specific questions on Tokenomics. The answers to your questions raised are provided by experienced industry professionals.
Community Q&A
Asking questions and falling back on the community is one of the things that you'll probably do a lot when you are learning Tokenomics. If you're ever unsure of where you can find the answer to your Tokenomics question, you can be sure to find it on sites such as Reddit, Quora, the Tokenomics DAO community in Discord, Coinowl group in Telegram.
Blogs
Blogs can be really extensive, insightful, information, and fun to read. They are a good medium to understand different opinions on a single topic and gain knowledge on something you didn't know through others' experiences.
Tokenomics learning journey is incomplete without a subscription to the articles in "Medium". They provide a lot of quality articles on the subject, and you can deep dive into any topics written by various authors.
Podcasts
Last but not least are the podcasts. These are great in many ways with audio, video, and written content, and you will get introduced to expert interviews. Though much of this content overlaps with newsletter and opinion resources, they can be conveniently played while performing other activities such as commuting or working out.
Whom should you not follow for Tokenomics?
It is generally not a good idea to blindly follow anyone when it comes to making financial decisions, including decisions about tokenomics. It's important to be aware that many individuals and organizations may not have your best interests in mind and may provide misleading or inaccurate information about tokenomics. It's generally a good idea to be cautious of anyone who is excessively promotional or seems to be more interested in making a sale than in providing accurate and useful information. You should also be cautious of anyone who claims to have insider knowledge or who makes unrealistic or overly optimistic predictions. It is also important to be aware of potential scams or fraudulent activity in the market. Many resources as discussed above in the article, are available to help you learn about tokenomics and how to make informed investment decisions.
Can you use ChatGPT to learn Tokenomics? How does it help?

When everyone is obsessed with the latest version of GPT-3.5, also known as ChatGPT, a Mind-Blowing AI Chatbot, it did well in generating responses to the general questions on tokenomics. This shows that it can learn from the available snippets the general rules to create something new. Though it may not create a functional or actual tokenomics model however, it may help you with a good knowledge of tokenomics.
You can also try it for free by simply going to ChatGPT website and opening an account. Here is a prompt for you to get started. Example prompt-I want you to act as a Tokenomics Tutor. I will provide input as concept ideas and topics names related to the study of Tokenomics, and your job is to explain these concepts in an easy-to-understand manner. This could include providing examples, posing questions, or breaking down complex ideas into smaller pieces that are easier to comprehend. My first question is, "Explain vesting schedules in Tokenomics with an example."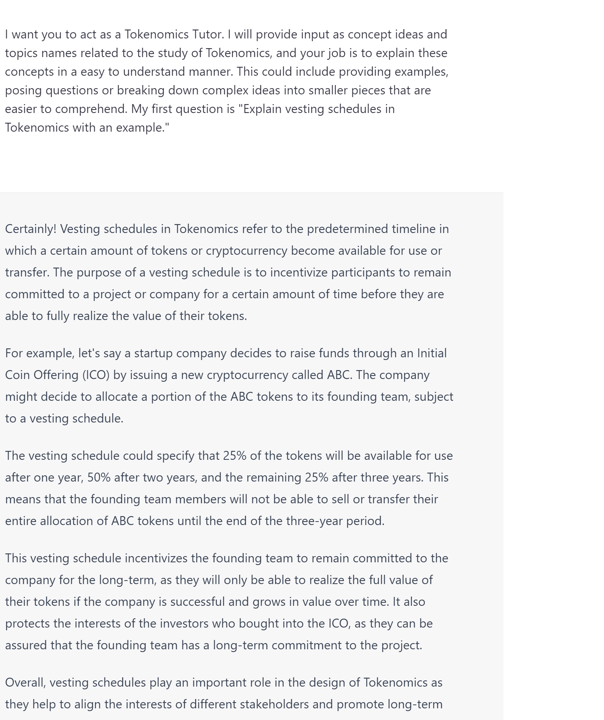 On the downside, since it is a machine-learning model, there is a high possibility that the information can be outdated or incomplete. In fairness, since the Web3 industry is constantly changing, makes the problems of ChatGPT relying on an old dataset are much worse. As ChatGPT gets its information from public internet sources, sometimes the answers it gives can be incorrect. Also, its knowledge base ends in 2021, so it can't stay up-to-date easily. Therefore, the response's accuracy would depend on the specific question you ask vis the quality of the data model in which AI has been trained.

Is elicit.org helpful in learning tokenomics?
Sometimes it is difficult to distinguish information that comes from reliable and credible sources, given the sheer quantum of information available in the public domain. However, a research paper being the primary source of information will help you differentiate between what is reliable and what is not. It gives you an idea of how to explore different other topics that you are unable to understand from simple lectures or textbooks and provides a deep understanding of any subject. You will learn how to build up your knowledge about any topic by exploring, synthesizing, and evaluating it. When you have a proper in-depth analysis of any topic, the result is fruitful, and the knowledge is enhanced. Gone are the days when a journal subscription would be required to access research papers, with an increasing trend in psychological science of offering open access to journals and papers.
An example of such a preprint platform is Elicit.org. It is an AI research assistant tool for tracking down potentially relevant research. As the field of tokenomics is an emerging one, when not much of resources are available around, this is one such great tool to dive deep into a topic in Tokenomics that particularly interests you. It has a repository of research papers on tokenomics, and along with it, it adds an AI-written summary that matches your question. However, you should choose the right keywords while searching the database. If you do not use the right questions, even Google can't give you the right answers. The more you read, the more benefits of reading research papers you get, and you become better at it.
Yet another advantage is that every research paper has the email address of the researcher who published that paper; you can send an email to them asking questions or connect with them on LinkedIn or Twitter.
Below is the snippet of the response as generated by the tool on "What is a token network effect?"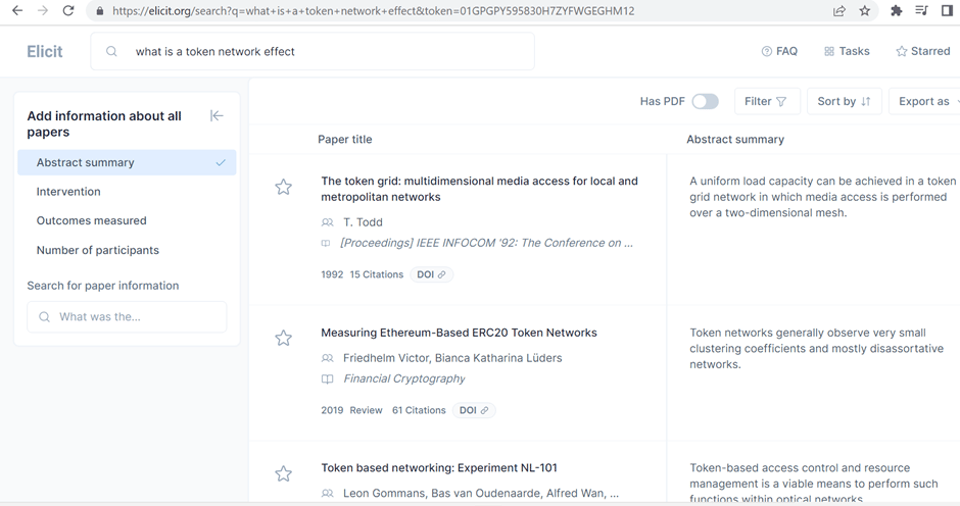 Where else can we mine information on Tokenomics?
Are you still looking to explore more of the resources available on Tokenomics? Then, let's see where else we can mine the information.
1. Books
Books can be a good option for those interested in learning through reading and a self-directed approach. It allows the readers to learn at their own pace and can be easily carried and accessed anywhere. It has a clear structure that helps make the material more engaging and easier to follow, and citations to other sources can be helpful for further exploration. As experts in the field generally write books, it brings credibility to the information presented. Here are some good books you can read to better understand the concept of tokenomics.
a) Token Economy : How the Web3 invents the internet
This book explains Web3 applications like smart contracts, DAOs, and tokens as the atomic unit of Web3, explaining the properties and functions of money and outlining the emerging field of decentralized finance (DeFi). It also covers use cases such as asset tokens, purpose-driven tokens, BAT (Basic Attention Token), social media tokens (Steemit, Hive, and Reddit), privacy tokens, and stable tokens are explored, including the role of CBDCs (Central Bank Digital Currencies) and Facebook's Libra.
b) Economics and Math of Token Engineering and DeFi

The aim of this book is to dive into the core foundational principles of economics in Web 3.0. The author has explored the evolution of economics, the change in principles, and the new environment that economics will exist. You don't need to be an economist or technologist to understand the book.
c) Web 3.0 Token Revolution : A Clear Breakdown of the Web 3.0 Token Economy by Chain Chesire
This book is meant for beginners that give insights into the concepts of token economy, practical use cases, and discuss about the need for technological revolution.
d) Blockchains and the Token Economy : Theory and Practice
This book has comprehensive coverage and provides novel insights into blockchains and token economy. Real-world case studies from a wide range of industries provide practical examples of blockchain-based tokens for real estate, logistics, insurance, recruitment, collectibles, reservations, metaverses, and more. The cases show how tokens provide an innovative way to create and transfer value without relying on traditional intermediaries. Readers will better understand the business and social benefits of tokenization and its challenges.
e) TOKENOMICS
In this book, you will learn The History of Tokens, What are Crypto Tokens, What is Tokenization, Tokenization vs Encryption, What is Tokenomics and why is it important, and much more.
2. Industry conferences and events
Conferences are something that learners often forget, but they also contribute to learning Tokenomics; it's important that you attend them as a Tokenomics aspirant. This is one of the great ways to learn about tokenomics with other members of society. Presentations and panel discussions in the forum can provide in-depth insights and analysis on a wide range of topics related to tokenomics, including economic and technical aspects of cryptocurrency and blockchain projects. In addition to formal presentations, conferences also provide networking opportunities such as networking breaks, receptions, and other social events, which can be an excellent way to meet and connect with others interested in tokenomics and related topics.
However, you should research the event organizers, speakers, and sponsors and check if the topics covered interest you. You can also set specific goals for attending the conference. It could be either making new professional connections or learning in-depth on a particular topic. Though learning through a conference can be costly as it includes registration fees, travel, and accommodation, considering the potential benefits, a wise decision could be made.
3. Professional association
Joining a professional association helps the members develop new skills and advance their careers through leadership, speaking, and publishing opportunities. Many associations offer educational resources like webinars, workshops, and courses to help members stay current on the latest trends and developments. The association often has newsletters, blogs, and other publications that provide updates on the latest news in the industry.
4. Consultants and advisors
Working with consultants and advisors helps you to understand the various risks and challenges associated with tokenomics, as well as potential solutions and best practices for addressing these issues. They can guide how to design a sustainable and successful token economy and help you navigate the complex regulatory landscape surrounding tokens. They provide valuable insights and knowledge on the design and implementation of token economics for a project. They can help you understand the various factors that can impact the success of your token, such as the distribution method, the use cases for the token, and the overall economic model. They help you better understand tokenomics and how to effectively implement it in your project, ultimately leading to tremendous success.
Key Takeaway
A career in Tokenomics today is truly a promising one. With the right resources and guidance, you will learn Tokenomics, this multidisciplinary domain, in no time.
Staying up to date is very important in the highly competitive market and it also helps you in your career advancement. Being aware of the latest news in Tokenomics can increase your value within your organization and equip you with a professional advantage. Not paying attention to industry trends can quickly make you out-of-date. Here are the key takeaways:

To stay up to date on recent happenings, follow influencers and experts in the field of Tokenomics in social media, and keep pace with what they are talking about and what's trending on social media. Network with them on Twitter, discord, and LinkedIn and find out what they are doing and what they think. Very importantly, you should factor in time to keep up-to-date. You can do this as a routine task until it becomes a habit. I am sure there are a lot of tools out there to help you manage.
To follow the trends, use social media monitoring tools to track mentions of specific keywords, hashtags, and topics. For instance, use a tweet deck for Twitter and have a personal search operating system, as most of the curation happens in social media.
Given the recent unpleasant incidents from the regulatory side, it is likely that we can expect more regulatory norms around tokenization in the near future.
Run sensitive surveys.
Get insights.
Unlock value.
Free plan, no time limit
Set up in minutes
No credit card required
---