The importance of collecting feedback on the newsletter
A newsletter is an excellent way to connect with your audience. Many successful newsletters provide immense knowledge and, at the same time, can get monetized. Content marketer Chris Hardy spoke to us and said incorporating regular newsletters into his daily business boosted his sales and engagement by over 300%.
In this blog, I wanted to show you how feedback collection using on newsletter using BlockSurvey can help serve your readers' needs and deliver value for them every time.
Why collect feedback on the Newsletter?
There are many types of newsletters. Mental health newsletter and Sexual health newsletter are some examples.
The mental health newsletter covers important health topics like stress, anxiety, and mood disorders. They attempt to capture information, treatments, and news about mental health. The sexual health and reproductive health newsletter provide good quality information about sex and sexuality. Adverse effects of unprotected sexual activity, access to sexual health care, environment that promotes reproductive health are some positive symptoms. Some negative symptoms are unintended pregnancy, abortion, sexual dysfunction, and sexual violence.
Whether mental health or sexual health, audience engagement comes with persuasive newsletter content. The newsletter usually covers content that the audience helps the reader with. Not all time, the newsletter writer gets to find what content should go in. This is because audience feedback is required to improve the quality of the newsletter. The writer needs some metrics to measure the success of the newsletter. This is where the Newsletter feedback survey comes in very handy to get 360 degrees perspective of the reader about the newsletter.

Having understood what a Newsletter and Newsletter Feedback are, let us now find different feedback designs in an email newsletter.
What are the ways to ask for feedback on your newsletter?
Email your readers personally and ask for their feedback

Personalized emails will help to some extent to get ideas and inputs
Ask your readers to reply to the newsletter

The readers would have read your newsletter at this point and would be better equipped to give feedback with the newsletter content at the top of their minds.
Add a feedback questionnaire to the newsletter

With a feedback questionnaire, you are actually deciding what questions to ask, which is powerful.
Add a rating

BlockSurvey has the question type "Rating." You can use the same to receive feedback through rating.
Add a like or dislike

I have shared some design inspirations from real newsletter creators.

Jessica, a research strategist, runs a weekly newsletter named #jesspicks. She receives feedback through her newsletter. You can have a look at her minimalistic feedback design below.

Also, Nicholas, a marketing expert, runs a newsletter named Growth Marketer.

Add love or hate

The newsletter from the "the HUSTLE" captures news on business and technology happenings. Find its trendy design here.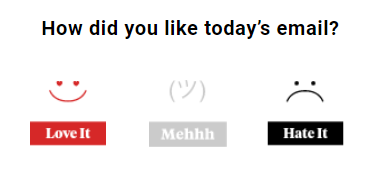 One more example is from The Curious Bunch Newsletter written by Vidya, who helps execute growth for companies.

Best Practices for a good newsletter
These days people receive a lot of emails in their inboxes. They receive many promotional contents. People do not have time to read long newsletters. Keep your newsletter short and sweet. Respect your reader's time. Create a newsletter that your readers will actually read.
You need not think that your client has signed up for your newsletter to read the large copy about your brand. The truth is the contrary instead. They would like to read small copies of your brand, which goes with common sense. Give content precisely and write about content that your readers are passionate about.
As in the case of a newsletter, the same is the case with a newsletter feedback survey. Ask feedback questions that are relevant and stay precise to the point. When your feedback surveys are long, your respondent gets tired and mainly fails to produce meaningless answers for you. Shorter surveys have higher completion rates and better data quality.
Newsletter feedback survey examples from BlockSurvey
The feedback in a yes/no format.

The feedback with an open-ended question.

The feedback as rating.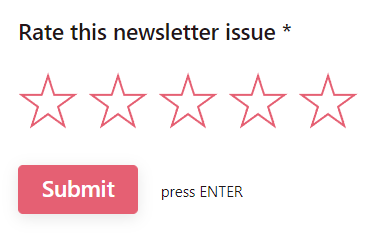 The kind of feedback questions asked in the Survey decides what information you want to receive. I have put some questions below that are generally asked in the Newsletter feedback survey. However, the questions are not limited to the below. There are actually endless questions that can be asked based on your need and creativity.
Do you like the newsletter?
Is the newsletter precise and to the point?
Are you satisfied with the length of the content in the newsletter?
Do you want the newsletter to be published weekly or monthly?
How difficult is the content to understand?
Do you want the newsletter to be published in any language other than English?
What news do you feel like being covered?
Can we share customer testimonials in the newsletter?
How satisfied are you with the overall experience of the newsletter?
Do you want the newsletter to be sent to your email?
Do you prefer to read the newsletter on our website instead?
What topics do you want to be covered?
How satisfied are you with the standard of English?
Did you find any spelling mistakes in our newsletter before?
These questions should give you an idea of what questions can be asked.
Improve Newsletter engagement
Newsletters generally are sent through emails. Mostly the Newsletter is in the body of the email, sometimes they are sent as attached pdf. Personalize your newsletter by mentioning the receiver's name and by sending customized content for different groups. The receiver feels more important when they are addressed with their name. This is one way of improving the newsletter engagement.
Get into the practice of using Emoji in your newsletter. Use different emojis based on the emotional feel of the content delivered in the newsletter. Tailor customized content for each of the user groups. Give a chance for your reader to make their voice heard. This can be a reply mail or a feedback survey.
The feedback survey can be either embedded in the email, else you can paste the link of the survey in your email. The embedded comes in handy allowing the users to take the survey in the newsletter itself. When you share the hyperlink of the survey, the user usually follows the link and takes the survey.
Privacy for Feedback Survey
Your newsletter can be journalistic or analytic. It can also be a curated one; all short topics are covered and presented as links for further reading. The newsletter can be artistic, and practical. Whatever the kind of newsletter, you are responsible for protecting your users' privacy when they take a feedback survey. BlockSurvey stands to that ideal, for it is created on an end-to-end encrypted platform and is resistant to a data breach, with zero knowledge on collected data.
Newsletter Feedback Templates:
The importance of collecting feedback on the newsletter FAQ
Why should I use a newsletter feedback survey?
Your newsletter feedback survey helps you to get inputs, thoughts, and ideas from your readers. It will give feedback on ideas, that you would have never thought of doing. You establish a personal connection with a feedback survey.
Why ask your newsletter readers for feedback?
You produce newsletter content for your readers. You try to help your readers with newsletter content. It is your readers who can give the best feedback about your newsletter. They can also help you improve subject quality.
What should you ask to get great feedback?
You can ask open-ended (Long text question type) and closed-ended (Yes/No question type) questions. The open-ended questions give you descriptive feedback. The closed-ended questions give you a distinctive answer.
Ready to dive in?
Sign up for free today.
Get future posts from BlockSurvey
---
Get future posts from BlockSurvey