5 Simple ways to increase your Non-Profit Organization's membership in 2022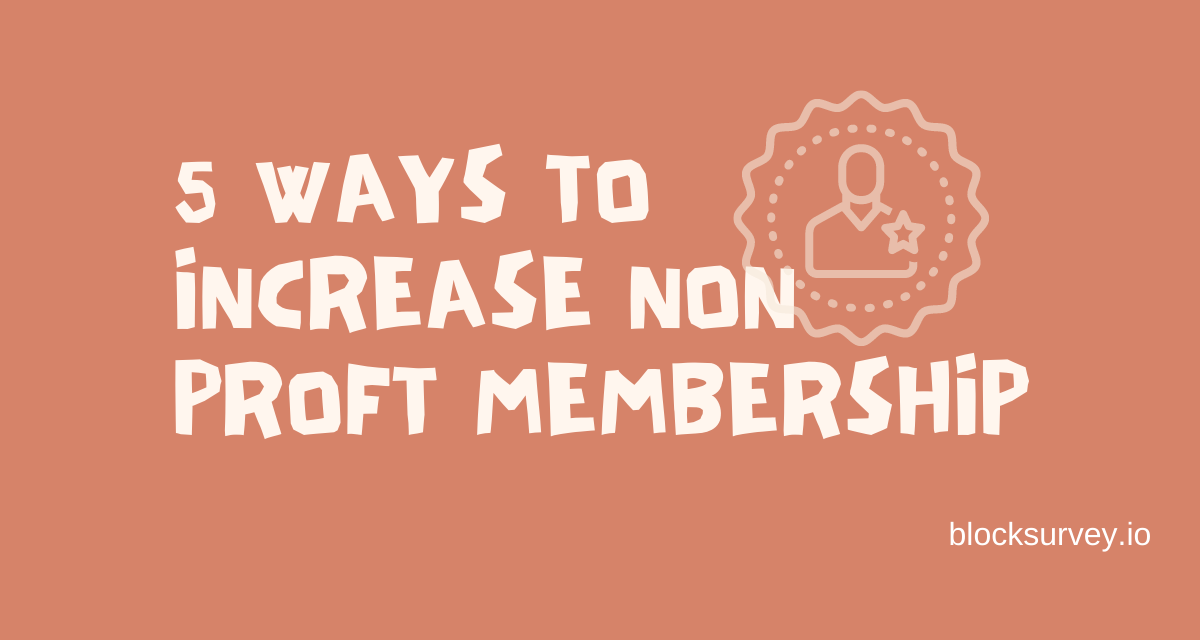 What is a non-profit organization?
While both profit and non-profit organizations have the same techniques and business strategies, a for-profit organization shares its profit with its owners, whereas a non-profit organization doesn't share its profits with the owners but donates them instead to reach the goals and objectives of their organization.
If we can easily define nonprofit, it can simply be said that it is an organization where humans with high values support other highly valued humans, without focusing on income and profit.
Here is a step-by-step guide to starting your Non-Profit Organization from scratch.
How to increase memberships for your nonprofit organization
"The smaller the population, the higher the engagement!"
We are sure that you might have heard this at least once or would have come across something similar to this sentiment. But the truth is that populations (in our case, organizations) attract lots of people of diverse skill sets, which lends itself to an organization that evolves with new ideas and new perspectives that propose the overall growth of the organization.
Yeah, we heard you; you may now think that it is easier said than done! And we agree with the fact that bringing new members to the team is such a tedious and energy-consuming task.
Read also: How to run successful research for a Non-Profit Organization
To bring in new energy, new ideas, and perspectives to the organization via new members in order to build a great community, here are a few well-proven tactics and ideas:
Host a playful open event:
Consider hosting free and open activities such as cycling, 5K runs, parades, and trade shows among the list of your upcoming events. And through these events, tell the participants to join your organization's membership. Don't just end there. Explain the benefits people would get by being a member of your organization along with the membership fees and membership levels in detail, as that would evoke curiosity, excitement, and interest from people which will hopefully compel them to join.
Ask every existing member to refer at least 5 new members:
Most people get to know about the good and bad of your organization not by the thousands of bucks you spend for your promotional works, but by the word of mouth. And hence, make this a task of your existing members to refer to and bring in at least five new members.
P.S. Remember to thank them later and provide an exclusive offer as well!
Collaborate with local organizations and clubs:
While there are already thousands of nonprofit organizations and thousands emerging day by day, what makes you stand out is being alive not for the global audience, but for your local audience. Collaborate and connect with local organizations for their events, so that you'd be visible to a lot of people who had no idea before that your organization existed.
Promote your work through social media platforms:
Speaking of a global audience, most of your dream donors and sponsors who are in the exact opposite corner of the globe will get to know you only if you are live—online. Having a personal website templates with all the information you need to show about your organization, is a very basic expectation these days.
Promote yourself without hesitation and the good deeds you have done so far by introducing yourself to the online population through social media posts, email marketing campaigns, and blog posts.
Email marketing and email marketing campaigns have high chances of building a strong community, which will help bring in a lot of inbound leads.
Online platforms pave a great way for your growth if you use them wisely, and no one will do that for you, until and unless you start speaking of your amazing efforts!
Encourage and promote existing members:
This is the most underrated yet magnificent way among all the other above-mentioned ones.
As already mentioned, word-of-mouth is a powerful method of bringing in new members. And that's not just for the sake of bringing in new members but also to retain existing ones, so spend time to genuinely appreciate and encourage them for their active participation in discussions, for their timely presence at every meeting, and so on.
You can also provide them with pins, badges, and small similar things that would make them smile as well as spread awareness of you to their extended circle.
Now You Have a Foundation...
Increase your membership through these amazing ideas. Don't forget about the awesomeness of self-promotion as well. Promote your good work through both online and offline modes.
For every member added, make sure to hold your values and virtues higher because the larger the organization, the greater you will influence the world or at least the people around you.
Make nonprofit membership programs, levels of membership, and the process of signing up easy. Don't overload information about the aspect of membership programs as it can confuse and distract them.
Above all, make it fun. You're doing good work, so be sure to spread that mission to as many people as possible so they can join you.
Run sensitive surveys.
Get insights.
Unlock value.
Free plan, no time limit
Set up in minutes
No credit card required
---
Run sensitive surveys.
Get insights.
Unlock value.
Free plan, no time limit
Set up in minutes
No credit card required