6 Best Jotform Alternatives to explore in 2022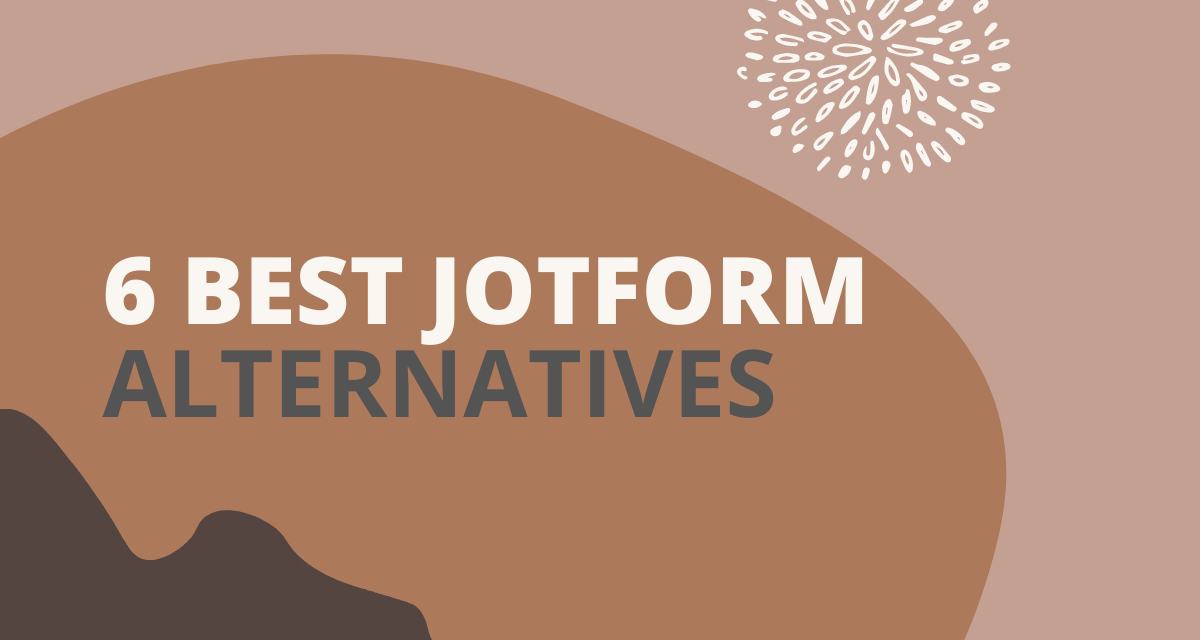 Handling data is one such important task in every organization. If you have ever created a form for your business, you might know how difficult it is to choose the best survey platform for all your data collection needs.
With plenty of options available today, undoubtedly, Jotform proves to be one of the finest tools available for form creation, starting from its excellent features, having a wide variety of forms exclusively for mobile users, to its new offline capabilities. Despite being one of the supreme tools for survey creation, Jotform fails to impress a majority of survey creators. So here we are going to take you through the five best Jotform alternatives to help with form building and a detailed analysis of the features and their pricing policies.
Best Jotform alternatives to explore in 2022
1. BlockSurvey:
​Blocksurvey is the most secure survey tool with the highest data security to the survey creators and respondents. BlockSurvey is an end-to-end encrypted survey tool with a pack of rich features that provides you with complete privacy, anonymity, and security. "Data is Wealth," and offering the highest protection to your data is our topmost priority. That's why it comes as the best alternative for Jotform, with a better user experience and privacy.
We live in a "Crypto" era, where Cryptocurrencies and Blockchain technologies are decentralizing the world. With massive amounts of data being wired every fraction of a second all around the World,
Decentralizing is the only way to own your data. BlockSurvey is the very first online survey tool that uses Stacks Blockchain, which is secured by Bitcoin to power up the surveys.
Key Features:
Privacy Focused: For BlockSurvey, Privacy is the prime feature. All your data collected is encrypted using your public keys and is stored in decentralized storage. You get your digital rights by giving you absolute ownership of your account/identity and data.
Effortless Customization: White label Survey is one fantastic feature of BlockSurvey, which knocks out every other best Jotform alternative. With BlockSurvey, you can easily customize your form to your organization's brand without the process of creating it from scratch.
Progressive Features: This survey software comes with a fantastic bunch of pre-built templates, GPT-3 based survey creation, multiple question types, an intuitive drag-and-drop tool, and more, which is also compatible with mobile devices.
AI-Driven Surveys: Another incredible feature of BlockSurvey is it is an AI-driven survey tool. Yes!! You read it right; if you are struggling with creating survey questions, we are here to save you.
​Simple & Beautiful Templates: BlockSurvey being the youngest in the industry gives you a better alternative for Jotform in terms of beautiful, fresh-looking forms that feel attractive to your respondents. Try these stunning Free 500+ Form Templates!! BlockSurvey puts an end to the old-fashioned, tedious forms by having conversational style forms to keep the interest of your respondents.
Easy Integration: Integration is one of the most critical things required today. It's vital because integration helps you move the data to essential systems of the organization. Use webhooks and integrate with Zapier, any middleware/integration platform which connects to 1000+ other platforms. ​
Pricing:
BlockSurvey's basic plan starts from $10 per month billed yearly with Unlimited Forms and Unlimited questions per survey. We also provide you a 30 day Money back guarantee if BlockSurvey fails to impress you with its unique features.
2. Wufoo:
​Wufoo is also one of the best alternatives to Jotform, with features like a drag to drop interface, spam protection, instant notification. You can add colors and different logos to your work to have a professionally designed form that will attract a wider audience.

Wufoo offers dynamic-based logic, ensuring that the respondents are only shown relevant questions based on their previous responses.
Key Features:
Form Builder
Form Analytics
Over 150 Templates and themes
Spam Prevention
Real-Time User management
150 plus templates
Pricing:
There is a free version of this software but with a limited number of subscriptions. The Premium version is a bundle of unique features for $29 per month billed yearly.
3. Google Forms:
Google Forms is the readily available free Jotform alternative undoubtedly. If you want to create a simple form, nothing fancy, then definitely Google forms is a better alternative for Jotform. You can create basic forms easily with this incredible tool and integrate them with other Google tools.

Key Features:
Simple Interface
Response notifications
Customize schemes and fonts
Skip Logic
Offline mode
Pricing:
It is a free form builder software with limited features.
4. Zoho Survey:
Zoho Survey is one of the incredible tools to build different types of forms and a decent alternative available for Jotform; it is very intuitive to use with more users liking its customization option and pricing policies. Zoho survey keeps it simple and user-friendly, attracting many of its users. Customization is one of the best-loved features of Zoho Survey, with pre-built templates, 100+ question types, and more.

Key Features:
Unlimited Forms
Easy Third-party integrations
Simple and elegant interface
Easy Form embedding
Zoho CRM compatible
PDF downloads
Webhooks
Offline data collection
Pricing:
Zoho Form's premium plan starts from $49 per month billed annually. A free trial version is also available to test before purchasing it.
5. Qualtrics:
Qualtrics is more used as a research tool than an online form builder; it fits best if you use it for education or other academic purposes. This survey tool has some cool pre-built survey templates and 100 question types that attract the respondents. Though users feel like learning how to use them is a difficult task.

Key Features:
AI-Powered
Analyses the question in real-time
Personalized recommendations to boost your response rate
Collaborative Workspace
Custom fields
Custom URLs
Pricing:
On the pricing side, Qualtrics is a bit expensive when compared to other alternatives; it costs nearly around $1500 per year.
Also read: UX portfolio examples
6. Survey Sparrow:
If you are a customization lover, you may be sure to fall in love with SurveySparrow.You can easily create beautiful, Cross-device online forms.
This powerful form builder has various customization options like adding background images, buttons, CSS, etc. You can integrate easily with HubSpot, Salesforce, and other apps with their powerful features. This way you can create personalized surveys to impress your respondents.
Key Features:
Personalized forms,
Executive dashboard
Customer journey map
White label surveys
Gain rich insights
Pricing:
Survey Sparrow's basic plans start from $19 for a single user, with 500 responses a month which is pretty decent.
Why look for a Jotform Alternative?
When everything is very much dependent on the internet, we deserve better privacy, data ownership, true anonymity, and security policies. Sometimes, even excellent sites fail to provide us with.
To answer this question promptly, I'll urge you to read a few reviews of users using JotForm and why they are not satisfied with this online application.
Major drawbacks of JotForm
When you are trying to develop a form, JotForm cannot format a widget; thus, it comes across as plain text forms.
Significantly fewer integration options, especially when it comes to email marketing providers. No Amazon SES or large-scale mail provider support.
Designing the form is still very limited and looks aged.
You cannot use your domain URL.
The customer service is also quite unreliable, as seen from social media and reviews.
BlockSurvery is one of the most considerable JotForm alternatives. Focusing mainly on digital rights(it is a human right). It provides users with better privacy, security, and data ownership. But unlike traditionally building the app, BlockSurvery is built on the theme of Web 3.0(uses Decentralized Tech / Blockchain. It uses one of the best blockchains called Stacks, secured by Bitcoin. Data privacy and security come from this. If you're using BlockSurvey, you can rest assured about the fact it's only you who owns your data!

BlockSurvey's only mantra is to provide data ownership and security for individuals or people in business who are willing to protect their valuable data.
Overall, BlockSurvey caters to everyone's needs and is very inclusive. We understand what you want regarding privacy data ownership, and make sure your data is limited to you and you only!. We take digital rights very seriously, as everyone should.

And if you happen to be a fellow student as well, BlockSurvey makes it easier for us by offering a free student plan as well. Sounds like a fantastic deal to me. I think it's about time we started making some beautiful customized form designs!
Run sensitive surveys.
Get insights.
Unlock value.
Free plan, no time limit
Set up in minutes
No credit card required
---
Run sensitive surveys.
Get insights.
Unlock value.
Free plan, no time limit
Set up in minutes
No credit card required